Fructuós Gelabert and Segundo de Chomón, who directed films at the beginning of the twentieth century, are the foundations upon which Catalan and Spanish cinema has been built for over 100 years. Fructuós Gelabert designed the first film studios in Spain and, from a realist point of view, he shot the country's first fictional film, Riña en un café (1897); in 1905 Segundo de Chomón, from a fantastic, imaginative and, above all, experimental point of view, made what would be his best-known film, El hotel eléctrico, now confirmed as the first film to have resorted to animation, frame by frame, before any others in the history of cinema.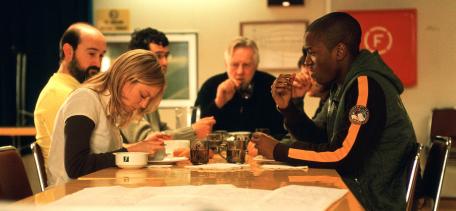 During the first third of the twentieth century, Barcelona was the centre of the Spanish film industry, in both production and distribution, and one of the cities with most cinemas in the world. In 1932 the first sound studio, Orphea Films was opened and the Generalitat de Catalunya created the Cinema Committee, a body with the task of establishing cinematic policies; the following year the first film in Catalan was made, El cafè de la Marina, directed by Domènec Pruna based on a play of the same name by Josep Maria de Sagarra During Franco's dictatorship, Barcelona continued to be a centre of production and distribution, but there were no signs of Catalan cultural recovery, let alone developments in the Catalan language. However, in the 1960s a slight recovery in cinema began to appear: Francesc Rovira i Beleta directed Los Tarantos (1963), candidate for the Oscars as the best foreign language film, and El amor brujo (1967), which was once more a candidate. That same year, Josep Maria Forn filmed La piel quemada (1967), a neorealist film in black and white with links to the social cinema of the period.
As already mentioned, experimental cinema, which takes particular care over form, aesthetics and research, has existed in Catalonia since the days of the silent films with the figure of Segundo de Chomón. This trend peaked in the 1960s with the movement called the Barcelona School, a reflection of a society that was modernizing more quickly than the rest of the Spanish State, looking to Europe and breaking rules, both of behaviour and in the way of filming. Promoted by the likes of Pere Portabella, Joaquim Jordà and Jacinto Esteva, the Barcelona School produced some of the most important films in the history of cinema made in Catalonia, like Dante no es únicamente severo, (1967) by Jordà-Esteva or Nocturno 29(1968) by Pere Portabella. José Maria Nunes, Carlos Duran, Vicente Aranda, Jaime Camino and Gonzalo Suárez were also part of this movement.
During the last five or six years this experimental cinema, rather forgotten in the last third of the twentieth century, has produced really important results. Names like José María de Orbe and Albert Serra or films like Elisa K (2010) by Judith Colell and Jordi Cadena, or Los pasos dobles (2011) by Isaki Lacuesta, are the heirs to a tradition that continues to acknowledge Pere Portabella and Joaquim Jordà as emblematic directors of an art that is not afraid to break all the established rules, aesthetically and ethically.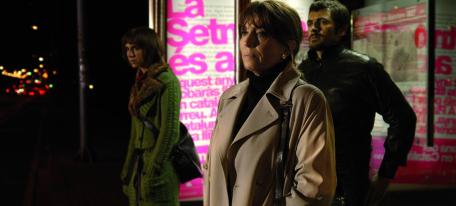 Alongside it, but very close to experimental cinema, one can speak of independent cinema. This has existed in Catalonia for many years, as exemplified by the likes of José Maria Nunes. More recently, titles like Fin (2010) by Luis Sampieri, Fake Orgasm (2010) by Jo Sol, Catalunya über alles (2010) by Ramon Térmens or Open 24 hores (2011) by Carles Torras confirm that the trend is still alive.
Una de las características propias del cine de ficción catalán es la de ser un cine de género: cine policíaco, histórico, de terror, fantástico, comedia, etcétera
One of the defining traits of Catalan fictional films is that they are genre films: detective, history, horror, fantasy, comedy, and so on.During the 1950s and 60s, detective films made in Barcelona were very important. Through their stories, they portrayed society far more freely than could have been done with the grittiest realism. Made with limited budgets, filmed in natural locations and based on true events, they have a style that is neither rhetorical nor showy. A good example of this is the work by the director Julio Coll; in 1957 he made Distrito quinto, based on the novel by Josep Maria Espinàs És perillós fer-se esperar. José Antonio Isasi-Isasmendi, a master of local detective films, made his best films in the 1950s too. Today, directors like Ventura Durall, with his first feature-length film Les dues vides d'Andrés Rabadán (2008), are continuing to pursue this genre.
Historical films have often been inspired by Catalan fiction in recent years too. However, there are considerable differences in comparison to historical films from elsewhere. So, if Pa negre (2010) by Agustí Villaronga – submitted though eventually not nominated for the 2011 Oscars as the best foreign language film – is an unmistakably Catalan film, it is not because of the story, which is universal, but because of the reflection of the Catalan rural world. Besides Villaronga's introspective gaze, we find another very recent historical film, Bruc, la llegenda (2010), by Daniel Benmayor, which uses the epic and the beauty of the landscape to tell a tale of national heroes; or Caracremada (2010) by Lluís Galter, a reflection on the libertarian resistance to the Franco regime through the person who was its last active guerrilla fighter. The forerunners of historical films like these can be traced back to 1976 with La ciutat cremada (1975) by Antoni Ribas, a film that evokes ten years of Catalan history, showing the political and social conflicts from 1899 to 1909. Also in 1976, Jaime Camino recreated the outbreak of the Spanish Civil War with Las largas vacaciones del 36. Two years later, Camino presented La vieja memoria (1978), a documentary based on the testimonies of survivors of the Second Spanish Republic and the Spanish Civil War. Based in the same period, Josep Maria Forn filmed Companys, procés a Catalunya (1979).
Beyond labels of genre, the explosion of freedom that that people experienced after Franco's death – which was reflected in the 1960s' titles mentioned above – opened the doors to a new generation of filmmakers who explored other themes, like Bigas Luna with Bilbao (1976), Francesc Bellmunt with L'orgia (1978), Francesc Betriu, Antoni Verdaguer or Ventura Pons, whose first film, Ocaña retrat intermitent, (1977), was officially selected at the 1978 Festival de Cannes
But the most prolific and popular genre in recent years in Catalonia is horror and fantasy, represented, for example, by the REC saga by Jaume Balagueró. The success of Mientras duermes (2011) – also by Balagueró – and of El orfanato (2007) by Juan Antonio Bayona, or Buried (2010) by Rodrigo Cortés, is a good reason to assert that the this genre in Catalonia is assured. Without doubt, it has contributed to the existence of one of the fundamental showcases of this kind of cinema, the Sitges Festival – Festival Internacional de Cinema Fantàstic de Catalunya, – which this year has reached its 45th Edition, and where in 1987 Bigas Luna presented his film Angoixa.
Leaving aside such heavily codified genres, we find in Catalan fiction a deeply rooted aspect that could be described as more "naturalistic". They are films that are somewhere between comedy and drama, without being either. Within this category are films like those of Cesc Gay, Marc Recha or Toni Bestard, which are examples of generational and contemporary film; or La mosquitera (2010) by Agustí Vila, a behind-the-scenes study of the moral confusion of the local petty bourgeoisie; or Tres días con la familia (2009) by Mar Coll. Ventura Pons has been making this kind of film for years: his long list of films offers a faithful portrait of what much of Catalan society is and has been during recent years.
We cannot forget that, within this area of fiction, animated films have powerfully begun to appear and that in recent years they have had some international success. Chico i Rita (2011) by Javier Mariscal and Fernando Trueba – nominated for the 2012 Oscars as best animated feature – and Arrugas (2011) by Ignacio Ferreras are proof that animated films for adults have a great future, along with other animated films for all audiences like Papa, sóc una zombie (2011) by Ricardo Ramón and Joan Espinach Floquet de Neu, el goril·la blanc (2011) by Andrés G. Schaer and Les aventures de Tadeo Jones (2012) by Enrique Gato.
The documentary is one of the driving forces behind the renewal of cinema made in Catalonia. The important introduction of what is known as the creative documentary is a relatively new phenomenon. Mones com la Becky, (1999), by Joaquim Jordà, was the first flicker of a fire that has produced splendid films and directors. There isn't a film festival or show in the world that does not feature at least one Catalan documentary. Jordà showed that making a documentary did not mean just filming reality, but transforming it through the eyes of the person doing this. Since then, documentary films from Catalonia have continued to grow with directors like Mercedes Álvarez, Isaki Lacuesta, Manuel Huerga, Antoni Verdaguer, Elisabet Cabeza, Esteve Riambau, Edmon Roch, Carles Bosch, Albert Solé or José Luis Guerin, among many others.
Besides film, there are other cultural forces that have been and remain fundamental to Catalan cinema. We have to point out the unquestionable importance of festivals, especially the already mentioned Sitges Film Festival, the international documentary film festival DocsBarcelona, that of musical documentaries Beefeater IN-EDIT the Manresa Festival Internacional de Cinema Negre or the Animac animated film festival in Lleida. Together, these festivals help to enrich the current Catalan film scene. Also contributing to this is the Filmoteca de Catalunya at its new Barcelona headquarters – opened in 2012 – it offers a carefully chosen first-rate programme and services.
Television stations like Televisió de Catalunya-TV3, also play a vital role in the world of cinema. On the one hand, they promote the production and making of telefilms and miniseries, whose quantity and quality has grown and improved in recent years with titles like Serrallonga, la llegenda del bandoler (2008), Les veus del Pamano (2009) or Tornarem (2012). On the other hand, they publicize cinema through programmes presented by journalists and critics like Àlex Gorina and Jaume Figueras. We should also recall the dynamic role that film schools have played in the current boom in Catalan cinema: the Màster en Documental de Creació at the Universitat Pompeu Fabra or the ESCAC (Escola Superior de Cinema i Audiovisuals de Catalunya) have made the generational renewal of contemporary Catalan cinema possible, with directors like Elena Trapé, Carla Subirana or Kike Maíllo, among others. In the academic sphere, names like Román Gubern or Àngel Quintana have become important figures in Catalan cinema at an international level.
As a consequence of this movement to drive forward and renew Catalan cinema, and in keeping with its vigour, the Acadèmia del Cinema Català, was created in 2008, an initiative that has promoted an annual celebration of recognition with the Premis Gaudí.
For the moment, there can be no doubt that Catalan cinema – a cinema that breaks the mould, that seeks new forms of expression – is an undeniable reality. At home and abroad, Carles Bosch and Josep Maria Domènech were nominated for an Oscar in 2004 for their documentary Balseros; Isabel Coixet and Antonio Chavarrias have been present at several editions of the Berlinale; Agustí Vila won the prize for the best film at Karlovy Vary (2010) and Isaki Lacuesta the top prize at San Sebastián (2011). Juan Antonio Bayona triumphed with his latest production Lo imposible at the Toronto festival. Albert Serra was present at Cannes with his first film, Honor de cavalleria(2006), and in 2012 at Documenta de Kassel with the feature film Els tres porquets. The list could go on and on. The growth of production in Catalonia has been surprising. In recent years nearly 600 fiction and animated feature films and almost 200 documentaries have been produced and we have seen about 60 new directors appear. It is, hence, an undeniable reality, with its continuity assured.