Electronic and hip hop
There is a strange contradiction with the electronic scene in Catalonia. On the one hand, the international Sònar festival is one of the most unmissable European and international dates for contemporary electronic music, but during the rest of the year there is not much happening on the electronic scene in Catalonia.
It is true to say that, after the ebullition of the electronic music scene at the turn of the century, electronic music for the masses has considerably distanced itself from the almost initiatic experimentation in new electronic styles.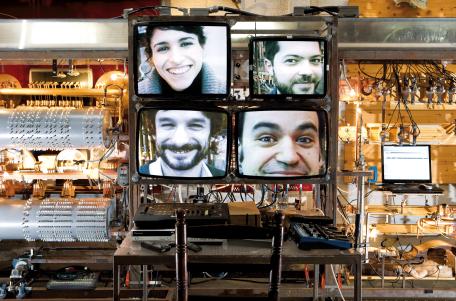 In Catalonia, the draw of tourism and the hedonism present in society make the nightclub a prime place for meeting people and having fun. But beyond the simplicity of local house music, a fair number of Catalan artists have decided to go their own way and develop their own style: the Pinker Tones, for example, combine the energy of rock, the lyrics of pop and the collective spirit of dance to stage highly participatory shows. La Casa Azul also move in these coordinates of electronic pop with a power of seduction that has conquered audiences everywhere. el Guincho from the Canary Islands, has made a name for himself in Catalonia with a proposal that is playful, internationalist and open to all.
Guillamino, for his part, is an electronic singer-songwriter who puts together songs free of prejudices to mix samplers, keyboards and Spanish guitars every which way.
Moreover, within Catalan-speaking lands, the cosmopolitanism of Vacabou is surprising, this Balearic Island electronic music project that works the songs with great melodic attention to detail, composing a very profound ambience and landscapes. Less well known still are Motor Combo, the duo made up of Eli Gras and Florenci Salesas that, from an apparently underground standpoint, play naïf electronic, inspired on the German techno of the 1970s and constructed with surprising freshness.
The main group on the Foehn record label, Balago, suggest a different way of playing more introspective, contemplative and intense electronic with what is more of a pop group.
Hip hop in Catalonia began producing good records at the beginning of the 1990s, with groups like BZN, Eat Meat, 7Notas 7Colores, Solo los Solo, Ari and Geronación, who beat a path as pioneers of a vibrant decade for Catalan hip hop. In the new century, the scene in Catalonia has fragmented into a large number of new names that have made the social networks their forum of dissemination and exchange. From those early groups have come new names like Mucho Muchacho (Oliver), Griffi – solo or with the group Chacho Brodas, where we can also find other talents like Tremendo, DJ 2D2 or Quiroga. Arianna Puello (Ari) has grown up with a great personality that has led her to record in New York with the cream of the city's rappers. Going beyond rap, the group Geronación stands out in the area of graffiti. The list of rappers in this century has grown with the work of At Versaris, Gran Pueblo, El Disop, El Nota, Porta, Falsalarma and ZPU, musicians who as we said, find that social networks and the Internet are the best places to publish their work.
Experimental: unclassifiable
Catalonia has made artistic experimentation one of its defining traits. Rauxa (hot-headed impetuosity) has driven many Catalan creators (Gaudí, Miró, Dalí, Tàpies, Barceló, Mompou, Gerhard, Montsalvatge, Mestres Quadreny, Sagarra, Maragall, and so on), along the most diverse paths, where they have made unusual discoveries. In Catalan music, we can find an unclassifiable number of artists that have made risk an instrument of creation, who together have built a very rich and diverse scene.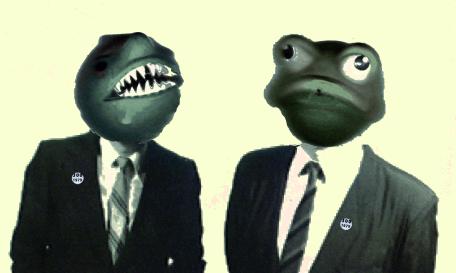 Since the 1970s, many young Catalan musicians saw, beyond the main trends of pop, rock or even jazz, new pathways to tread, making curiosity a value and an attitude with which to tackle the unknown. Groups like Perucho's, Macromassa and Blay Tritono made up a list of young souls who threw themselves into the search for something different, unexplored territory, their own idiom. From these groups emerged names (Oriol Perucho, Eduard Altaba, Enric Cervera, Ramon Solé, Víctor Nubla, Juan Crek, Joan Saura, Albert Giménez, Pep Pascual, and so on), who have continued expanding the riskiest music scene. In the 1980s, the group Otras Músicas, coordinated by Serapi Soler, gave birth to ideas like Moisés Moisés and Koniec, later joined by Gringos, while Macromassa grew artistically and in the number of recordings (Macromissa is an essential record from that period), creating a world that, according to its members, is crossed with music, theatre, performance, design, installation, magic, literature, radio, happening, cinema, video. This universe is reflected, to date, in the discography of 12 records. Outside Macromassa, the restless, tireless Víctor Nubla has set up other projects in parallel, like Aixònoéspànicor the cultural association Gràcia Territori Sonor, which organizes the LEM festival in Barcelona every year, where the most stimulating European ideas on today's experimental scene can be seen and heard.
Another fundamental contribution of the 1980s to this trend was Koniec, which materialized in an extraordinary number of records (especially Senza parole, a very eloquent example of Koniec's musical discourse). Koniec's four members, Xavier Maristany, Joan Saura, Oriol Perucho and Josep Palomas, were the product of the 1970s' generation that continued searching for sounds derived from the new possibilities of digital technology and the most organic sounds and noises. Later Xavier Maristany and Joan Saura (1954-2012) began solo careers that ought to be followed closely as they led to an important part of contemporary Catalan experimental music and sound art.
Xavier Maristany was also one of the founding members of L'Orquestra del Caos (1994), an inter-disciplinary group of artists associated with experimental music and sound art, living in Barcelona. Its objectives are: the production, creation and dissemination of sound, musical, audio-visual, and multimedia events, with a special interest in knowledge along with technological development.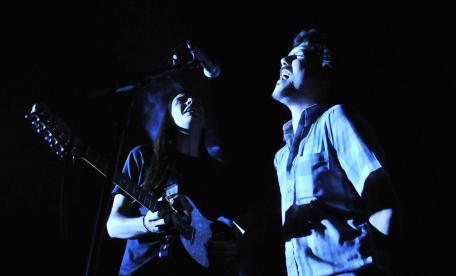 Agustí Fernàndez is a musician and pianist who is difficult to label. An artist coming out of popular music (pop, rock, rumba, Latino), he has made his career a constant search in the sphere of improvisation. He has worked with a very long list of musicians: Derek Bailey, Evan Parker, Jo Krause, Barry Guy, Tom Cora, Jordi Sabatés, John Edwards & Mark Sanders, and so on.
Carles Santos, for his part, is a free creator, a transgressive pianist, a popular, curious and restless musician attached to his homeland and its landscape, and to its culture, who firmly believes that what is most local can be most universal. Carles Santos is open to all styles and all possibilities, from large-scale to minimalist shows. His rauxa is limitless, as is his boundless musical discourse.
Pascal Comelade, the best-known North Catalan musician on the international scene, is an exponent of a kind of music that wishes to spread everywhere based on an attachment to space, time and the tradition received. The creator of a much imitated peculiar sound, he has worked with P.J. Harvey, Robert Wyatt, Toti Soler, Lluís Llach, Víctor Nubla and Jaume Sisa, among others, as the spirit of collaboration and interrelation with music and musicians is one of the defining traits of his musical personality. Capable of playing a sardana or songs by the Rolling Stones or Jonathan Richman on toy pianos, Comelade has discovered a new way of playing and approaching contemporary popular music.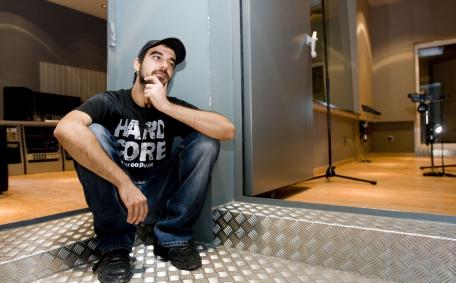 There may be some who think that CaboSanRoque are advanced disciples of Pascal Comelade, but while similarities with the Roussillon-native musician can be found, this large group has put together a discourse of its own based on devices capable of making music by using mechanics and new technology at the same time. With one foot in traditional music and the other in modern popular music, Cabo San Roque are a different proposition, which makes curiosity a method for reaching places off the beaten path.
The list of unclassifiable Catalan musicians is long: the poets Enric Casasses, (who works with Pascal Comelade or the group Triulet) and Eduard Escofet (with the electronic group Bradien) propose on the stage points in common between poetry and music to continue developing contemporary sound idioms. Like in the even more peculiar case of Accidents Polipoètics, a very personal experiment that treats poetry as sound art.
The duo Za! make their live shows a unique unrepeatable experience based on the collision between music, voice, sounds and noises. Another duo, Atleta (former members of 12Twelve, one of the most interesting post-rock and European progressive rock groups), searches in its live shows, through improvisation, for personal ways of continuing to progress in the field of rock.
This desire to progress in the field of roots music can be found in Marc Egea, based on the hurdy gurdy (of which he is a virtuoso player) and the iconoclastic collaborators that he has surrounded himself with, and reaching areas bordering on jazz with the group Kaulakau, with the participation of Jordi Molina, one of the best tenora players in the field of the sardana; Mediterranean musicians with El Maram Trio, where Egea collaborates with Marina Albero and Mariona Sagarra, women with proven track records as soloists; and from the world of improvisation with Banda d'Improvisadors de Barcelona (BIB).
Young men like Nico Roig with the same restless and curious attitude are getting into experimentation: he has been through rock, pop and singer-songwriting, working with Baschet instruments that, along with fellow member Martí Ruids, he incorporates in their unclassifiable range of sounds.
All this and much more takes place in Barcelona and the whole of Catalonia thanks to the initiatives of cultural associations (Gràcia Territori Sonor, Advanced Music), small venues, arts centres (CCCB with its cycles of debate and artistic collision), universities (like Pompeu Fabra, from where Reactable, came, an absolutely innovative sound generating system directed by the musician and lecturer Sergi Jordà and which was adopted by musicians like Björk), and even museums that are open to contemporary music (MACBA, Centre d'Arts Santa Mònica).