New idioms, the most contemporary stage creativity or theatre and para-theatre actions are labels that group together and identify the unclassifiable work of a group of artists that is hugely heterogeneous and diverse from the point of view of the aesthetics, the concept or the format of their ideas. The common denominators of this group are basically interest in new ways of performing, connection with the current social situation, the demystification of art, the search for a new relationship with the public, the occupation of unconventional spaces, the contamination of all the arts by the theatre and the prominence of new technology. The theorist Hans-Thies Lehmann has come up with the term post-dramatic theatre to refer to the late twentieth century scene that he defines as "drama in which the text ceases to be hegemonic and unites with dance, painting, lighting, music, architecture or video clips without establishing hierarchies". The point of departure is undoubtedly the loss of hegemony of the text in the context of the play.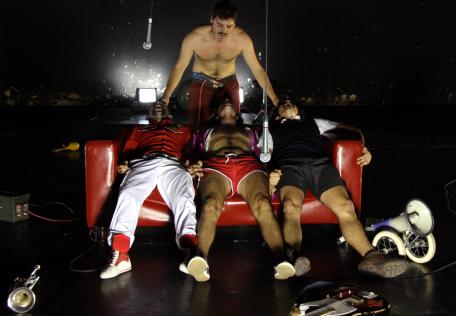 This new contemporary dramatic creation has, in Catalonia, seasonal venues like the l'Antic Teatre (Barcelona), Escorxadijous  (Lleida) and the Teatre Municipal d'Olot; festivals that are being consolidated like Escena Poblenou (Barcelona), TNT (Terrassa) and the Setmana Internacional del Festival Temporada Alta (Girona); and platforms like the Festival NEO (Noves Escenes Obertes), relaunched in 2012 with the support of different public theatres in Barcelona. There are also the festivals – no longer active – like Radicals Lliure (of the Teatre Lliure de Barcelona), Mapa (Pontós) and PNRM (Olot), which have performed an important function in this sector.
At the 2012 Festival NEO, Àlex Serrano, the main figure in the company Agrupación Señor Serrano, presented Katastrophe, in which four actors dressed as teddy bears handle objects and cause chemical reactions that destroy models of inhabited houses. Is there any difference between a natural catastrophe, a natural catastrophe caused by people and a human catastrophe? In the show, which has had an excellent international run, we can see movement, physical theatre, on-stage video, interactive technology and the actions of the performers. It is a good example of what the new Catalan avant-garde scene is presenting, a category hard to define because it feeds indiscriminately on genres with a clearer profile like dance, object theatre or new text-based playwriting.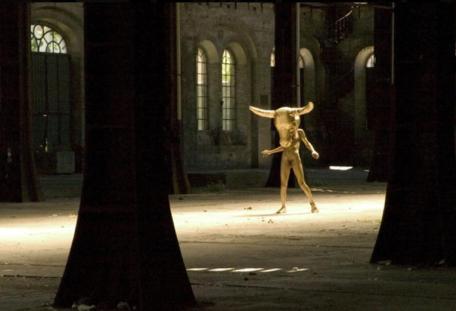 This is also the case with loscorderos.sc and their show, El cel dels tristos (o la impossibilitat de ser millor persona),n which a text is recited that is performed autonomously in a gestural way according to the logic of its meanings; loscorderos.sc is a company based in Barcelona since 2003, which has also been well received abroad. We can define their proposal as physical theatre, but in fact it is not too far away from some of the projects of Pere Faura, which are closer to contemporary dance due to the importance that music and movement has in them.
The hybridization of genres in these creators is actually one of their few common characteristics. This, the work of both Antigua i Barbuda and Playground is based on objects; El circo de las penas by the members of the first of these companies, Jordà Ferrer and Óscar de Paz, is a production in which machines perform a play, with the aid of soundscape artist Pablo Rega and dramatist Josep Pere Peyró. Antigua i Barbuda, formed in 2002, has one foot in the plastic arts and another in the performing arts, and a fixation with machines as containers of poetry. Playground, Xavier Bobés' company, formed in 2003, has in a few years accumulated many projects of new object theatre that has matured from its original El cap als núvols(2004) to the recent Insomni (2011), via the surprising proposal A taula (2009).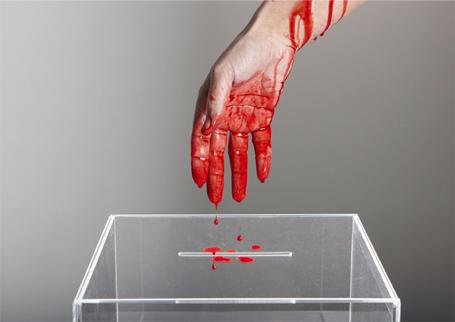 All these artists are examples of the latest batches of a performing avant-garde which in Catalonia has consolidated figures like Marcel·lí Antúnez, with his projects associated with technology and robotics, Sergi Fäustino, a performer who generates different actions always linked to his life history; or Tomàs Aragay and Sofia Asencio's Sociedad Doctor Alonso, who through movement and gesture have created a host of projects that often work through paradox. To these names we have to add Roger Bernat, committed to stressing the contradictions of commitment; Colectivo 96; Sònia Gómez; David Espinosa; Nico Baixas; Fundación Collado-Van Hoestenberghe; El Conde de Torrefiel; Guillem Mont de Palol; La Reial Companyia de Teatre de Catalunya; Indi Gest; Insectotròpics; Obskené and so on. They are the rearguard of the avant-garde, who make up the rich and diverse panorama of the new Catalan scene.