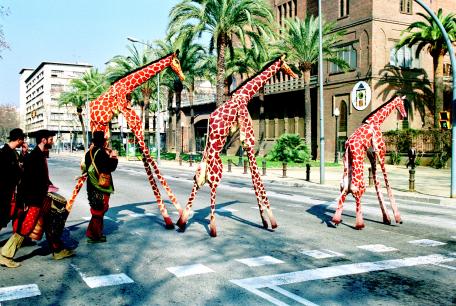 Street performing arts have a thousand different facets and can express themselves as popular, iconoclastic or avant-garde. Yet aimed at all audiences, regardless of age or any other distinction, they are always a cultural breath of fresh air and an element of social cohesion between groups.
In the mid-1970s, Catalonia saw a great boom in artists who, linking with the medieval tradition and following the path set out on by Els Comediants, took to the streets and squares in search of new venues for their incipient forms of expression. They are artists of very diverse disciplines (puppets, music, mime, conjuring, passacaglias, acrobatics, different circus acts, animation and performance) that specialize in improvisation and seek an interactive relationship with the public. They regard the street as not merely a stage, but also a place for research, a testing ground that without knowing it was to heighten the renewal of the Catalan performing arts scene. Historic companies, no longer active, like Picatrons, La Tràgica, Can Boter, Els Aquilinos, Marceline & Sylvestre or Planxet i Cia have given way to groups like La Cubana, Artristras, La Fura dels Baus, Jordi Rocosa, Always Drinking Marching Band, Fadunito, Iguana, Kamchàtka or the clown-cum-conjuror Gromic. There are also companies specializing in animation, passacaglias, pyrotechnics and mechanical devices (Gog i Magog, l'Avalot and Sarruga, among others). They are all artists and companies imbued with this sunny, Mediterranean and expansive character that so attracts the attention and the spirit of European spectators.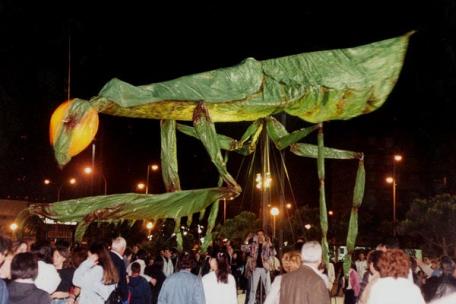 In Catalonia, street theatre received a great boost with the creation, in 1981, of the Fira de Teatre al Carrer de Tàrrega, directed in the first editions by Comediants and which has now become the biggest international market in its speciality in Southern Europe. These days, the renamed FiraTàrrega, attracts about 100,000 spectators per edition, brings together hundreds of international programmers and is, for Europe and South America, a major point of reference for its R&D initiatives: transnational co-productions, congresses and training master's degrees, awards for research and innovation in unconventional places, laboratories and creative residences, and so on.