It is often said that cuisine and language are probably the two characteristics that help more than anything to define a country's identity. And that Catalonia has a cuisine of its own, just as it has its own language. Of course, the existence of both of these is an undeniable fact. Therefore, unlike other nearby countries that have borrowed their language and cuisine, and after overcoming vicissitudes and obstacles (impositions aside), Catalonia is in full possession of these two characteristics. Both are the essence of the country's culture, and expressions of the way those who live here speak, write, cook and eat. As such, they are alive and evolving. The excellent form that Catalan cuisine is in, as the whole world acknowledges, can be understood in and falls within this context.
Chefs as ambassadors
One of the elements that most clearly identify Catalonia, in the second decade of the twenty-first century, is undeniably its cuisine. The chefs who have led the current movement in this country, with Ferran Adrià at the forefront, have played a very important part in this. Along with him, names like Santi Santamaria (who unfortunately passed away in February 2011),, Carme Ruscalleda and Joan Roca, to mention just the ones who have received the most accolades, are known all over the world; others are following in the footsteps of the masters, like Xavier Pellicer, Jordi Cruz, Paco Pérez and Fina Puigdevall. They are at the forefront of a generation of professional chefs who have become world famous, modernizing culinary techniques and concepts practised by earlier generations. They represent the paradigm of change, of the continuous movement that cuisines – small and large – need if they do not wish to stagnate and weaken. Tradition without evolution halts and dies. Hence before them there were others. Fermí Puig or Carles Gaig, to mention two of the most recent; the prolific Josep Lladonosa or the creative Josep Mercader, going back to the 1970s, to evoke names that have stood out over the years.
A strong, long-standing tradition
Only great cuisines can possess their own culinary corpus, based on landscapes that have shaped their inhabitants, defining combinations of ingredients and culinary techniques, aromas, textures and flavours, through their recipe books, used in homes and restaurants, which give rise to dishes that the people, in Catalan culture, share at the table. Catalan cuisine can boast of having its roots in the fourteenth century. From that period dates the first recipe book in Catalan, one of the oldest in Europe: Llibre de Sent Soví. In it, techniques and preparations are explained that have endured to the present day, such as the onion sofregit or the picada. Just over a century later, Mestre Robert published the Llibre de Coc, the other original work of mediaeval Catalan cuisine. Both are proof of its centuries-old foundations. Since the medieval period, there have been many Catalan treatises and recipe books. Often associated with ecclesiastical cooks, titles like the Llibre de cuina de Scala Dei (17th C), Cuina catalana, avisos i instruccions per lo principiant cuiner and Nuevo Arte de Cocina (18th C), or the Avisos o sien regles senzilles de Felip de Palacio(19th C) bring us to the nineteenth century, when the publication of cookery books was linked to the movement promoting the language, with La cuynera catalana standing head and shoulders above all of them. Two highly significant books for Catalan cuisine were published in the 1930s. The first was El llibre de la cuina catalana by Ferran Agulló, an enlightened politician, who asserted that, in the same way as language, cuisine is a sign of a country's identity. The second, La teca by Ignasi Domènech, is probably the most commonplace book in home libraries and on kitchen shelves. From hereon we shall dispense with titles, though not without mentioning some of the most influential authors from the post-war period to the present day: Nèstor Luján, Manuel Vázquez Montalbán, Llorenç Torrado, all now passed away, Ignasi Riera and of course the most prolific author of all time Jaume Fàbrega. These authors and their mastery have beaten the path of contemporary Catalan cuisine.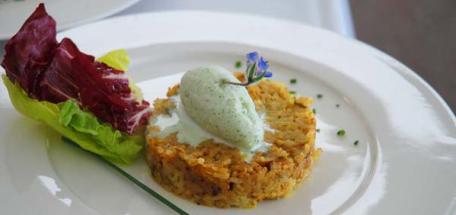 A pantry that has grown and grown
Having said that, let's go back and see what, centuries ago, the kitchen pantry looked like in Catalonia. In those days, as far as we know, cereals (some varieties now extinct) were grown for grain and flour, there were pulses and vegetables (a small part of the ones we are now familiar with), and there was extensive cultivation of vines and olives. There was plenty of poultry, the pig was king of the sty and sheep and goats roamed free. Except along the coast, fish was scarce and salted. Meanwhile greens and fruit, and especially spices, were gradually arriving from the Middle East and beyond. Three centuries later, from America came potatoes, peppers, broad beans and tomatoes. This historical note is useful for underlining what was mentioned at the beginning: cuisine evolves as long as it is alive. It is by nature a traveller. It feeds on commercial exchange, voyages of adventure and conquest, back and forth; it appropriates what passers-by, those stopping over, invaders and friends leave it, those who depart and those who come to stay forever and, in turn, put down roots. And dishes that did not previously exist – and no one ever imagined that they would – go on to fill the traditional recipe book. And one fine day, tomato was added to the onion sofregit; and a few generations later (after making sure that they were not poisonous and that they satiated appetites) potatoes are the kings of the "landscape placed in the pot", according to the famous culinary definition coined by Josep Pla. At the same time, cod, today venerated and expensive, is the fish par excellence, the flesh that makes up for Lenten abstinence. And we Catalans have become specialists on the subject, offering one of the most complete repertoires of all the Latin cuisines. At other times in history, following varied, random or consecutive circumstances, dishes now so common appear in our culinary corpus, like crème brûlée (for Saint Joseph's Day, 19th March) or cannelloni (for Boxing Day). And we could add yet another product to the list: chocolate, which went from being a cooking spice to being indispensable for the pastry chef.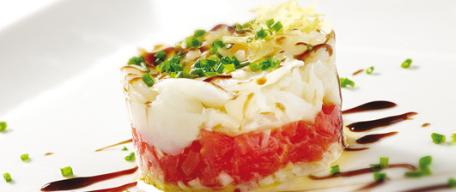 Landscapes, cuisines and dishes
Catalan cuisine is the result of diverse circumstances, of cultivated landscapes, of survival and necessity, of culture and refinement. We can qualify the above-mentioned definition that Pla coined linking landscape and cuisine, but accepting the diversity of lands and climates within Catalonia is beyond doubt. And of different influences, the result of centuries of Arab occupation (New Catalonia) or of permeability to northern currents (Old Catalonia).
There is a mountain cuisine, based on survival, which influences the inland one. There are cuisines of irrigated and dry ground, of the better-stocked pantry or the more slender shopping basket. There is, after that, a cuisine of the sea, not just one but as many as there are stretches of coastline from Salses to Guardamar.
Yet cuisine does not recognize frontiers. The proof is on the plate: we call it "sea and mountain", often a baroque mixture of antithetical elements. In L'Empordà they are partial – a case of unlikely pairings – to fish and meat together (rabbit and langoustines, chicken and lobster). In La Cerdanya, the stellar dish is made by mashing cabbage touched by frost with late potatoes, dressing it with crispy bacon; there they call it trinxat, and in El Ripollès they call it canamillana. All along the coast they prepare a dish with the humble origins of the cooking pot on the fisherman's boat, called suquet, which varies, of course, from one place to another. And everywhere we eat rice dishes all year round, dry or watery, of fish or meat, or mixed, with vegetables or wild mushrooms. And even here we find essential differences: sofregit with browned onion or tomato, depending on the tradition. Everywhere we find the presence of fruit in casseroled meat dishes: duck with cherries, beef with pears, chicken with peaches. And then there is that more proletarian cooking, which has just about survived under the wing of the urban markets: offal-based cuisine.
All this is Catalan cuisine, interpreted in the north, south, east and west, from the high mountains to the seashore, as is also the case with the language, with dialects belonging to each region.
Colours, textures, aromas and tastes
I si en comptes de fer aquesta lectura geogràfica, la féssim seguint una guia imaginada dels sentits, aniríem a parar, de nou, a eixos vertebradors propis de les grans cuines.
If instead of making this geographical interpretation, we made it following an imaginary guide to the senses, we would once again come to central themes typical of great cuisines.
We could speak, for example, of the importance of gelatinous textures in the Catalan culinary corpus. Of how we take delight in eating pig's trotters, cod or wild mushrooms. Or the diversity and quality of the haricot beans that can be found in our dishes. Or even of the lead role that wild mushrooms play. We might also analyse Catalan cuisine by looking at the colours. We would realise that many dishes in the south of the country are red (where red pepper abounds in cooked meats and dishes) or how the bacon and stews get darker as we go north, and the hues of the dishes are browner. Where the field obviously broadens is in the varied palate of flavours in traditional cooking. The range of broths and soups is long, and that of dishes with tasty sauces is possibly even longer.
We could also speak of Catalan cuisine by referring to the peculiarities that the calendars provide us with: the four seasons, the religious celebrations with their precepts and prohibitions or the pagan holidays. Or the simple difference between working days and holidays, family and individual meals, out with others or at home. Because then we would also be able to appreciate the enormous diversity.