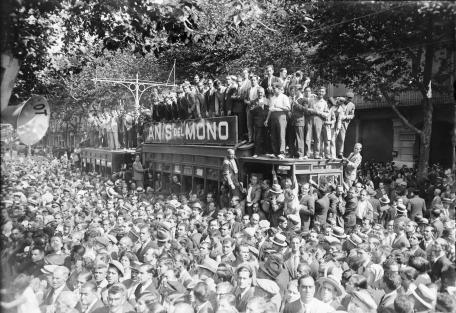 While the history of photography in Catalonia runs parallel to that of other European countries prior to the Spanish Civil War, this tragic conflict changed the direction of events. Before and during the conflict, photojournalism had already gained important footholds here, with figures as important as Josep Brangulí (1879-1946), Carlos Pérez de Rozas (1883-1954) or Agustí Centelles (1909-1985). The war, exile and the subsequent censorship overshadowed and blurred the work of many photographers in that period. However, from 1950 onwards and, later, with the arrival of democracy and then the Olympic Games, the number of photojournalists increased and was strengthened extraordinarily.
The birth of modern journalism and the graphic press, which took place due to technical improvements in the process of production and reproduction of images, consolidated photojournalism. Publications like La Vanguardia have become reference points in this respect. Not only did the technological renewal cause photography to become an essential element of the press, it also gradually gave it a status of its own that developed alongside painting and the other visual arts.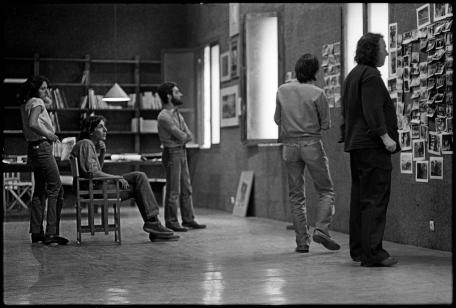 This opening up, which distanced photography from the pictorialist premises typical of the late nineteenth and early twentieth century, was boosted by the voices of the Catalan avant-garde that, in photography, were wholly in tune with what was going on in the rest of Europe. During the 1930s, the discipline underwent an authentic revolution thanks to advertising and certain specialist journals. Emili Godes (1895-1970), Josep Sala (1896-1962), Josep Masana (1894-1979) and Antoni Arissa ((1900-1980) were some of the photographers who dabbled in the New Vision and the New Objectivity in Catalonia. One of the greatest promoters of photographic modernity in Catalonia, as a practitioner and a theorist, was Pere Català-Pic. Salvador Dalí, a multifaceted artist, also played an outstanding role in the theorization and development of avant-garde photography.
In photography, the mixing of disciplines and the desire to investigate with new idioms and formulae becomes clear very early on. This was due not just to the actions of the photographers themselves, who tried to take it to the extreme, but also to the participation of painters, filmmakers and artists in different fields that approached the discipline and used it as a medium of expression.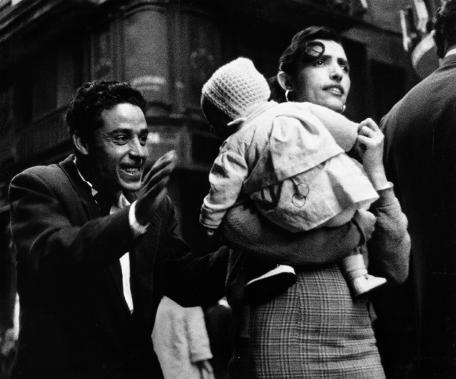 However, as with photojournalism, the Spanish Civil War put a stop to this activity, which did not resume until the 1950s, with the emergence of personalities like Francesc Català Roca (1922-1998), Ricard Terré (1928-2009), Ramon Masats (1931), Xavier Miserachs (1937-1998), Oriol Maspons (1928), Joan Colom (1921), Leopoldo Pomés (1931), Colita (1940), Eugeni Forcano (1926), Francesc Esteve (1932), Josep Buil (1920) or Julio Ubiña (1922-1988), among others, who were (and, in some cases, still are) important figures throughout this period, spanning right up to today. These artists began to impose new ways and means of taking photographs, merging the two tendencies existing up to then: the journalistic-documentary and the other more aesthetic.
The 1970s and 80s were two significant periods in the development of photography in Catalonia. On one hand, the first galleries appeared that were devoted wholly to this discipline, like the Spectrum, founded in Barcelona in 1973 by Albert Guspí (who in 1978 also founded, based on the model imposed by the ICP in New York, the Centre Internacional de Fotografia de Barcelona) or Forum Tarragona, founded in 1981 by Chantal Grande and David Balsells. In 1980, the Primeres Jornades Catalanes de Fotografia, were held at the Joan Miró Foundation. They analyzed the current state of photography in Catalonia and established the need to recover, conserve and disseminate its photographic patrimony. On the other hand, many Catalan visual artists, especially those who had been trained and worked in conceptualist trends, began using photography as a medium for their creations. Hence, in the years immediately following, Catalan photography was shot through with Conceptualism, and later, above all with the work of Joan Fontcuberta and Pere Formiguera the effects of Post-Modernism began to be felt. From that period, we should also mention the work of Pilar Aymerich, Ferran Freixa, Montserrat Manent, Jordi Gumí or Toni Vidal, among others.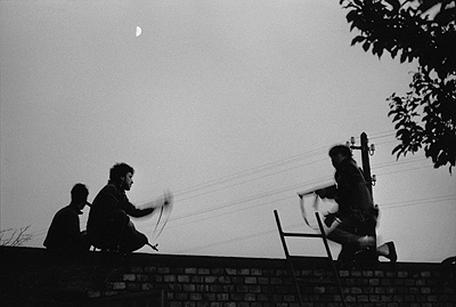 In the last 25 years, photography has received a great boost, allowing its presence in galleries, arts centres and museums to become consolidated. Its power of attraction has also increased at different festivals. The Primavera Fotogràfica, a pioneering Spanish festival held for the first time in 1982 aimed to promote photographic techniques as an artistic medium. Recently, other festivals, like the Scan in Tarragona, have resumed the wish to explain and show the work of Catalan photographers.
>
Meanwhile, the work of the photographic press and reportage d'auteur has also become consolidated. Outstanding here are names like Manel Armengol, Juan Guerrero, Paco Elvira, Kim Manresa, Txema Salvans, Sandra Balsells, Jordi Socías or Tino Soriano, among others.
The appearance of new platforms of dissemination and the growth of the cultural prestige of photography have encouraged new generations of artists to opt for this medium. Creators coming from other fields have used photography, like Perejaume or América Sánchez, and visual artists such as Montserrat Soto. Jordi Colomer, Anna Malagrida or Joan Morey, also use it in their work. As do "pure" photographers who, more or less experimental, have got into aesthetic investigation, without getting too far away, in many cases, from documentary photography or that with genuine social concerns. Thus, names from different generations (born in the 1940s, 50s and 60s) are part of this group, with exponents like Humberto Rivas, Jordi Guillumet, Manolo Laguillo, Jorge Ribalta, Martí Llorens, Aleydis Rispa, Juan Urrios, Xavier Ribas or Santos Montes.
In recent years, and buoyed up by the possibilities of the global network and the turbulence of political and social events and large-scale urban mobilizations, photographers and photojournalists have once more opened up a new path of communication, where we find current affairs, aesthetic refinement and the use of the new communication technologies. Here, once again, historic names have appeared alongside the younger generations, together with collective initiatives, like Photographic Social Vision, Piel de Foto or the recently created Centre de Fotografia Documental de Barcelona.