Catalan rumba is one of the styles that define the urban music of Barcelona in the second half of the twentieth century. It is a mestizo style resulting from the collision between flamenco rumba and Afro-Cuban roots, with the added features of rock and pop of the early 1960s. The result is danceable music also capable of reaching slower tempos. Catalan rumba began with pioneers like Antonio González, el Pescailla, and his brother Juan González, L'Onclo Polla, and Pere Pubill Calaf, Peret, made it very successful internationally from the late 1960s onwards. Along with them, Josep Maria Valentí, Chacho, Los Amaya and Rumba Tres kept Catalan rumba going until the mid-1970s, when the phenomenon of the so-called "Sonido de Caño Roto", from the outskirts of Madrid, popularized rumba in other parts of Spain.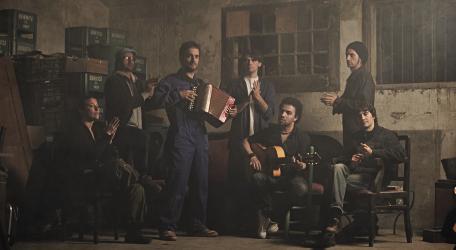 In the 1980s, an Argentinean living in Barcelona, a former member of progressive and laietà rock bands, Javier Patricio Pérez, alias Gato Pérez, gave new impetus to Catalan rumba and kept it alive with the younger generation during Peret's temporary retirement. Regarding Catalan rumba groups, Las Estrellas de Gracia was the most outstanding one of that period, before Peret returned to playing in the early 1990s, when, alongside him, figures emerged like Chipén or Ramonet, who, thanks to the 1992 Olympic Games and the subsequent internationalisation of Barcelona, saw the style return to glory with Los Manolos, a peculiar group of paios (non-gypsies) that was able to reinterpret the Beatles or Gato Pérez himself, and even mix havaneres with Catalan rumba (El meu avi).
This success in the 1990s produced new groups like Ai Ai Ai or Sabor de Gràcia, who picked up the baton and kept rumba alive until midway through the decade, when the global trend for fusion swallowed up rumba, assimilating it in its own way of combining musical styles from around the world.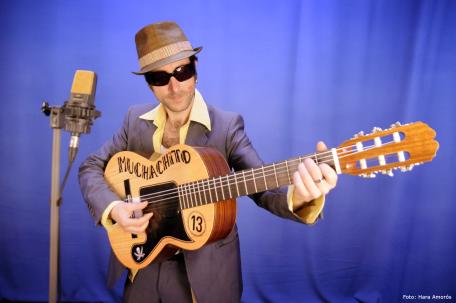 Dusminguet, Ojos de Brujo and Macaco were the first groups to incorporate it clearly and decisively. At the same time, Manu Chao, the former vocalist with the French group Mano Negra, living in Barcelona, turned the world's gaze towards the city as the epicentre of a new sound that arose from the mix between Latino and Afro-Cuban roots and European urban styles. Reggae and ska, African sounds, Indian, bolero, cumbia, corridos and rancheros were impregnated with rock and embraced rap and electronic music, in a mosaic that seemed like a classic trencadís (tile mosaic) by Gaudí.
In the new century, young people from all over the world were coming to fan the flames of fusion even more: Che Sudaka, 08001, Nour and Color Humano were groups that added young Latin American, North African, French and African musicians to swell the ranks of a vital, restless and very prolific scene. La Troba Kung-Fú, fronted by a former member of Dusminguet (Joan Garriga) added to the mix between Latino and Caribbean rhythms and Catalan rumba. Muchachito Bombo Infierno ( (Jairo Perera Viedma) appeared in the bars of the outskirts of Barcelona with high-octane energetic music. Gertrudis was developing Catalan rumba from a paio (non-gypsy) point of view and with a clear pop accent. La Kinky Beat presented their credentials deeply rooted in hardcore and the most committed and combative rock. The list is long and very varied in accents, smells and colours: Fu-fü-Ai, Pantanito, Los Fulanos, Los Impagaos, La Pegatina, Achilifunk, Lenacay, Calima, RumbAmazigha, Almasala, Txarango, continue to fan the flames of the mestizo Catalan fire.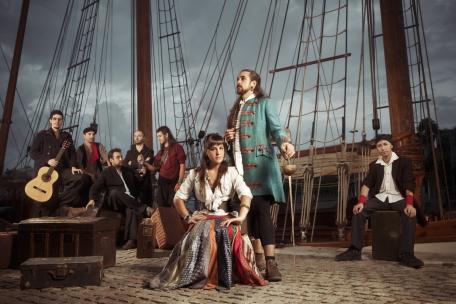 The richness of immigration has contributed many great names to the mestizo Catalan music scene: L'Orquestra Àrab de Barcelona (with the musical direction of Mohamed Soulimane and the voice of Mohammed Bout) is a group arising from a mixture of North African and Catalan musicians with really high-quality results. Nor should we forget groups like Nash Marrakech, which was a pioneer, and from which later emerged the individual talent of Abdeljalil Kodssi, or the work of the Saharawi Mariem Hassan.
Nino Galissa, from Guinea Bissau, is a virtuoso kora player who, after many years living in Barcelona, has a more than considerable number of records to his name. The list of active African musicians in Barcelona is just as long: Bino Barros (Cape Verde), Massara Traoré (Senegal), Kuami Mensah (Benin), Kwane Afrovibes (Ghana-Nigeria), Kodjo Senyo, the Alma Afrobeat Ensemble...
And then there is the rich contribution from Latin America: Wagner Pa, Mònica Besser, Carlinhos Pitera (Brazil), Marcelo Mercadante (Argentina), Palo Q'Sea and Lumbalú (Colombia). The Latin orchestra La Sucursal SA became a point of reference thanks to the work of Radio Gladys Palmera, the Antilla Cosmopolita venue and the tireless work of Enrique Romero, el Molestoso, among others./p>