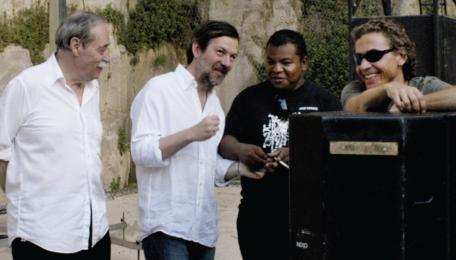 Catalonia's relationship with jazz goes way back. Barcelona was one of the gateways of jazz to Spain after 1918. Since then, jazz music in Catalonia has never stopped growing. From the enthusiasm of the 1920s to the professionalism of the 1930s, halted by a civil war – the Spanish Civil War – that seriously changed things but could not break a people's cultural resistance. Hence, the 1940s witnessed a boom in swing dance orchestras.
After that, the enthusiasts arrived who created the Hot Club de Barcelona, while Jamboree in Plaça Reial became the nerve centre of live jazz in Barcelona, along with Jazz Colón on the Rambla. In the county of El Vallès Occidental, Jazz Cava de Terrassa pumped out jazz thanks to the initiative of a group of true fans and, all over Catalonia, new venues and experiences emerged, with jazz as the tool of modernization and of opening up to the world. Thus, the genre's greats began to come and play in Barcelona (Louis Armstrong, Ella Fitzgerald, Don Byas, Lou Bennett, and so on). In this milieu, local stars began to emerge, like Tete Montoliu on the piano, who carved out an indisputable place for himself in the history of international jazz during the second half of the twentieth century.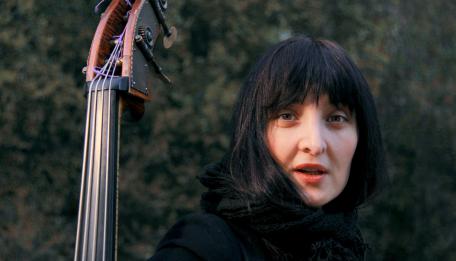 Along with him, names like Ricard Roda, Josep Maria Farràs, Francesc Burrull or Salvador Font Mantequilla began their careers in spite of the difficulties of the 1960s. In that decade, an emblematic venue emerged onto the scene: La Cova del Drac, in Carrer Tuset, in an uptown area of Barcelona. In parallel, the members of the Hot Club created an international jazz festival held at amazing venues like the Palau de la Música Catalana or the Basilica of Santa Maria del Mar, or large-capacity venues like the Palau d'Esports, with the participation of the cream of international jazz. In the 1970s, the combination of jazz with the progressive spirit of rock and the imprint of fusion gave rise to the so-called "laietana" music among the younger generation of Catalan jazz musicians. Very significant in this wave was a young, inquisitive and restless Argentinean called Gato Pérez, who shook up the music scene at the city's first live music venue with a cosmopolitan spirit: Zeleste in Carrer Argenteria.
Laietana music dazzled local audiences with groups and musicians like the Orquestra Mirasol, Jordi Sabatés, Toti Soler, the Companyia Elèctrica Dharma, Blay Tritono or Música Urbana, the group from which Joan Albert Amargós and Carles Benavent emerged in their own right. All these figures made national and international names for themselves in the 1980s, due in part to the emergence of teaching centres that provided continuity in the wake of their mastery: L'escola musical de Zeleste, L'Aula de Música Moderna i Jazz and El Taller de Músics. Since then they have grown, encouraging the birth of smaller schools. Thus, a musical training base was created, which is now producing great results throughout Catalonia.
In the 1980s and 1990s, the Catalan jazz scene also welcomed international musicians who settled here: Dave Pybus, Peer Wyboris, Horacio Fumero, Matthew Simon, Ze Eduardo, Mario Lecaros, Peter Delphinich and so on. Here, they rubbed shoulders with local stars like Perico Sambeat, Albert Bover, Lluís Vidal, Ignasi Terraza, Carme Canela, Laura Simó, Àngel Pereira, David Xirgu, David Mengual, Gorka Benítez, Jon Robles, Marc Miralta, Agustí Fernández, Mario and Jordi Rossy; the last of whom was fundamental to the great jazz revolution of the 1990s.
Indeed, Jordi Rossy was one of the first jazz musicians who, when he finished studying in Barcelona, received an international grant that took him to the Berklee College of Music in Boston, Massachusetts. When he came back to Barcelona, he brought with him fellow students and jamming partners like Brad Mehldau, Mark Turner, Jeff Ballard, Kurt Rosenwinkel, Joshua Redman or Chris Cheek, who were recorded by Jordi Pujol on the local jazz label Fresh Sound Records.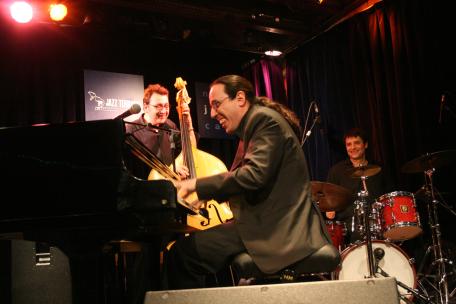 As mentioned above, the results of the jazz and modern music schools began to be garnered from the early 1990s. Moreover, great players like Sean Levitt lived in Barcelona and left an indelible mark on it. The 1990s were brilliant, but they were not featured much in the Catalan media. At the end of the decade, musicians like Llibert Fortuny, Raynald Colom, Marc Ayza, Giulia Valle, Elisabeth Raspall, Xavi Maureta, Guillermo Klein, Paco Weh, Mariano Steimberg, Dani Pérez and many others welcomed in the new century with renewed concepts that really refreshed the Catalan scene.
El Jamboree (part of the Mas i Mas group) once more became the epicentre of live jazz in Barcelona and by extension in Catalonia, the stage where local musicians and international stars played, and where jazz was fused with spontaneous and inner city hip hop in the legendary Monday-night What the Fuck Sessions. Playing a key role in this was Aurelio Santos, another of the city's great jazz enthusiasts and cultural movers and shakers. And as a more classic jazz club, Jamboree continues to publicise younger names in Catalan jazz: Sergi Sirvent, Marco Mezquida, Pablo Selnik, Ismael Dueñas, Roger Mas, Jordi Matas, Raül Reverter or Gabriel Amargant.
Naturally, we cannot forget other venues in Barcelona that struggle daily to offer live jazz: the Harlem Club, Jazzman, Bel-luna Jazz Sí, Sala Monasterio, Robador 23. Nor those in other parts of Catalonia: Nova Jazz Cava de Terrassa Jazz Cava de Vic,el Teatre de l'Escorxador in Lleida and many small clubs and venues that supply enthusiasm and determination when putting jazz on.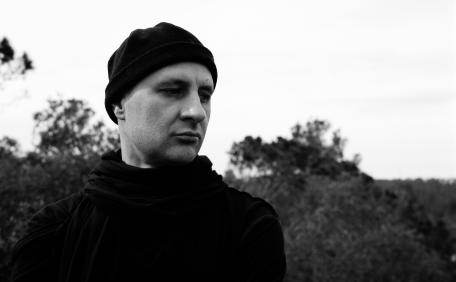 The Catalan jazz scene that in recent years has been reinforced by the new talents coming out of the l'ESMUC (Escola Superior de Música de Catalunya  ), enriched by the cosmopolitan ideas of Juliane Heinemann (who, starting in jazz, has found her place in high-class pop) and Esther Condal. Esther has a voice and a personality that, with her debut album Home, make her one of the most promising singers on the Catalan jazz scene. Among vocalists, also worthy of mention are the young Celeste Alias and Judith Neddermann.
The label Fresh Sound Records now has the most important documentary catalogue of the last two decades in Catalonia, which, combined with those of Quadrant and the Taller de Músics (released by DiscMedi) make up a really first-rate jazz scene, to which we should add pianist Ignasi Terraza's new label Swit Records.
Lastly, before ending this overview, we cannot forget one of the most successful experiments to have come out of the city of Barcelona's jazz scene recently: Sant Andreu Jazz Band made up of boys and girls aged from seven to eighteen, directed by musician Joan Chamorro, which apart from fascinating the audience at its concerts or listeners of its records, has shown itself to be a teaching experiment unique in the world, using jazz as a musical style to train young people with.
Jazz and Catalonia are two connected concepts with an undeniable future projection. The current scene is the result of the sum of enthusiasms and anonymous desires that, over the years, have built a brilliant vibe. This scene is gradually beating a path outside our borders and is beginning to find some recognition that here, in Catalonia, still has room to grow.