The performing arts in Catalonia are an expanding universe, a rich and healthy ecosystem because of the diversity of species within it. Different actions carried out in recent years have served to establish an area of coexistence for a great variety of projects. The widespread idea that the performing arts are one of the main assets of Catalan culture – constructed on a solid popular tradition – has made possible a fruitful coexistence of public, private and mixed initiatives, with notable success.
The creative potential distributed among many diverse individualities, corresponding to virtually all the dramatic genres and styles, has in recent years given rise to a growing international projection. Catalonia exports dramatists, directors, artists and companies.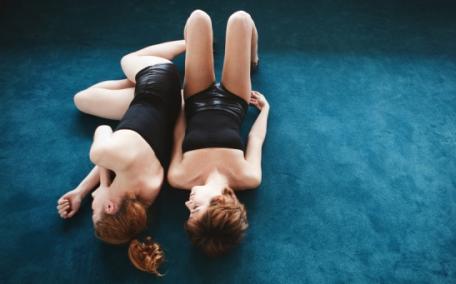 From the early days to the present
There is a tradition of the performing arts in Catalonia that has enabled them to evolve over time. In the late 1960s and the early 1970s, independent theatre paved the way for the boom in groups of collective creation, some of which began to conquer the street, connecting with the spirit of the fiesta and the longing for freedom after decades of repression under the Franco dictatorship. Historic companies of that time and others, created in the 1980s, are still active today: Els Joglars, Comediants, Dagoll Dagom, La Fura dels Baus, La Cubana, El Tricicle, Cesc Gelabert, Àngels Margarit, Los Galindos, and others. The scene has been enriched with publicly-owned theatres like the Teatre Nacional de Catalunya, the Teatre Lliure and the drama centre network with venues in Reus, Sabadell, Terrassa and Girona; with the complicity of private production companies, occasionally the driving force behind projects that go beyond frontiers and stereotypes, like Focus at the Teatre Romea or Bitò Produccions at the Festival Temporada Alta; with the renewing force of more recent initiatives like the Factoria Escènica Internacional (FEI) and the Antic Teatre, or the new fàbriques de creació promoted by the Ajuntament de Barcelona.
Text-based theatre
n recent years, a group of very diverse and plural playwrights has been creating an unabashed portrait of the society in which they live. This is the case with Lluïsa Cunillé, Josep Maria Miró, Pau Miró, Marc Rosich, Jordi Casanovas and Marta Buchaca. These names form the latest batch of creators that wish to tell the story of this country, a goal that has always been in the hearts of renowned playwrights like Josep Maria Benet i Jornet, a creator who has acted as a link between the theatre before and after Franco's dictatorship. Benet i Jornet, with a long list of successes and acknowledgements throughout his career, was one of the first Catalan dramatists, after Àngel Guimerà, to project his work beyond the frontiers of his country. He was a pioneer; however, fortunately, these days a series of names, like Sergi Belbel, Esteve Soler, Guillem Clua, Pau Miró o Jordi Galceran have seen their plays premiered all over the world. All of them, and many other names, are part of a flowering of Catalan playwriting that is unparalleled in its own history and has been closely linked in recent years to the Obrador de la Sala Beckett.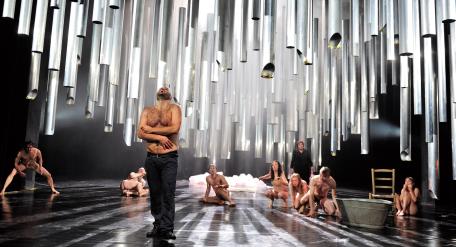 Non-text-based theatre
This flowering, however, does not affect only text-based theatre: new idioms are also going through a good period Àlex Serrano, loscorderos.sc, Jordi Oriol, Marcel·lí Antúnez, Roger Bernat, Sergi Faustino, Nico Baixas and El Conde de Torrefiel, among others, are demonstrating the vitality of the theatre of risk, a category that feeds on object theatre, movement, video, new technologies, or text-based plays themselves. One of the characteristics of the current Catalan scene is its transverse nature; thus, for example, we find dramatists and choreographers collaborating closely in the creation and production of their shows with circus performers, visual artists, musicians.
Companies like Playground or Antigua i Barbuda are avant-garde theatre, but in fact, they are the latest phases of a tradition of dramatic mixing in the field of object theatre that goes back a long way: during the 1970s object theatre was in fact one of the forms most exploited by the then emerging street theatre. At that time, Joan Baixas and Teresa Calafell's La Claca had already associated objects and puppets with the avant-garde plastic arts (to construct a show as ground-breaking as Mori el merma, in collaboration with Joan Miró.
Street theatre
With its privileged climate due to its Southern European location, Catalonia has managed to make the street one of its most fruitful performing laboratories. Companies like Els Comediants, Albert Vidal or, shortly afterwards, La Fura dels Baus and Artristrasrepresented a Mediterranean response to the English-speaking influences of groups like the Living Theatre or Bread and Puppet. The international acknowledgment that street theatre today enjoys is in large part due to the Fira Tàrrega. Moreover, theatre for all kinds of audiences, currently articulated by the association TTP, is finding one of the essential stages in the street, while it is consolidating itself as an important component in theatres specializing in this genre.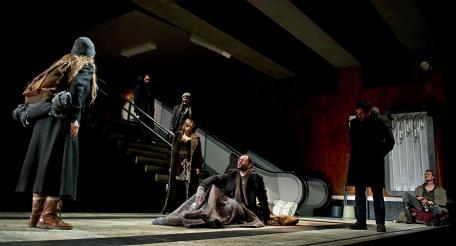 Dance
Contemporary dance also deserves attention; the latest batch of creators in this genre stand out in their own right: Roser López, Pere Faura, La Veronal, Vero Cendoya, Brodas Bros, Les filles Föllen or Lali Ayguadé. They are very diverse personalities that incorporate in their approach a lack of formal inhibition that breaks down the severity of the past and opens up new avenues of communication with the public. The latest phase of the Mercat de les Flors and the new creative factory El Graner have had a direct influence on the emergence of this new generation of choreographers. Mal Pelo, Sol Picó, Trànsit, Andrés Corchero and Senza Tempo among others, form the main body of today's contemporary dance. It has opened up to the world with its own interpretation of the evolution of the genre in Europe. Cesc Gelabert and Àngels Margarit were pioneers of this wish to speak with their own voice, and they now enjoy prestigious reputations on the international scene.
Circus
For its part circus has recently undergone a profound revolution – it has combined closely related performing arts, like theatre and contemporary dance, to change its look, form and content. Companies like Enfila't, the Circ Teatre Modern, EIA or A Tempo are examples of a totally unabashed way of understanding the circus that works in new venues and seeks a new audience that understands the challenge and the poetry, the essence of the circus, as an integral part of a richer and more global artistic proposal. La Central del Circ and APCC have been two crucial mechanisms for positioning our circus on the international scene.
Theatre direction
Lluís Pasqual, Calixto Bieito, Sergi Belbel, Carme Portaceli, Àlex Rigola, Joan Ollé, Xavier Albertí, Mario Gas, or the unclassifiable Carles Santos, have contributed a personal approach to universal repertory theatre while making forays into genres like opera and incorporating dance and movement into projects. Other names like Oriol Broggi, Julio Manrique, David Selvas, Carol López, and Carlota Subirós, who have recently risen to the first division of Catalan theatre, have directed plays that have connected with a wide variety of audiences.
Lastly, festivals that are currently held in Catalonia, like the Festival de Barcelona Grec, the Festival Temporada Alta in Girona, Festival NEO, Escena Poblenou or the TNT in Terrassa, are international showcases that display all the richness of Catalan performing arts.
A crossroads of paths and cultures, Catalonia is a welcoming, cosmopolitan country with a profoundly European vocation. If companies like Els Joglars and Albert Vidal had already conquered Europe at the height of the Franco dictatorship, in recent years the Catalan performing arts have managed to produce and export a unique discourse of their own, combining the richness of their tradition with the diverse contributions of artists coming from all over the world. Beyond the creative individualities and characteristics typical of each performing art, Catalan productions are distinguished by a curious balance/imbalance between the necessary seny (serenity) and the essential rauxa (craziness) in all artistic creation.