Catalonia in Venice
La Venezia che non si vede
Catalonia will participate in the 57th Art Exhibition of the Venice Biennale under the program, Eventi Collaterali, with a project by Antoni Abad and curated by Mery Cuesta and Roc Parés. The project goes by the name of, 'La Venezia che non si vede. Unveiling the Unseen'. The Ramon Llull Institute is producing the Catalan presence at the Venice Biennale, which begins on May 13th, 2017. Antoni Abad proposes a sensorial interpretation of the urban space that is Venice in collaboration with a local group of blind and visually impaired people. The map of Venice that you cannot see has been created before the Biennale's inauguration, thanks to the meetings that the artist Antoni Abad is having with associations of blind people along with university students. Over the course of the Biennale, the mobile app and the BlindWiki webpage are being fed fed by the contributions made by citizens and visitors who wish to participate.
The catalan presence at the Venice Biennale, which will take place from May 13th – November 26th, is produced by the Institut Ramon Llull Opens in new tab. This will be the fifth time that Institut Ramon Llull brings Catalonia at the Venice Biennale. This proposal was chosen by an independent jury led by Xavier Antich along with Martí Manen, Chus Martínez, Martí Peran, Nekane Aramburu, Antoni Muntadas i Ferran Barenblit  and Marta Oliveres, the director of the Creation Department at the Ramon Llull Institute, who participated as the spokesperson without voting privileges.
BlindWiki is a collaborative project that grows thanks to the contributions of volunteers.
A SPECIAL THANKS TO ALL THE PARTICIPANTS: Anna Ammirati, Inessa Baldin, Flavia Banchi, Mattia Bordolotto, Simone Boso, Romane Bourgeois, Elena Brescacin, Valentina Caccamo, Miriam Calabrese, Luigi Carabuzza, Luca Casella, Cristina Faraon, Laura Ficotto, Francesco Fratta, Irene Fratta, Martina Fusaro, Anita Herodek, Piergiorgio Longagnani, Andrea de Lorenzo, Martina Manzari, Chiara Mazza, Guglielmo Messina, Giulia Oblach, Antonio Pozzana, Tobia della Puppa, Stefano Rossetti, Anna Maria Salariace, Alberto Scatto Vio, Emanuele Serpe, Felice Tagliaferri, Marta Toti, Alessandro Trovato, Ilaria Visentin, Rossana Zambon.
Thanks to: Ernest Ameller, Tamara Andruszkiewicz, Francesc Aragall, Associació Catalana per a la Integració del Cec, Associació Discapacitat Visual Catalunya, Alberto Balletti, Alessandra Ballotta, Giulia Bencini, Llorenç Blasi, María José Bou, Luciano Domenicali, Paula Ferullo, Bernat Franquesa, Fundació Ulls del Món, Paolo Garbolino, Dimas García, Miquel Giner, Ramón Gironés, Istituto dei Ciechi di Milano, Ione Larrañaga, Andrés Lewin-Richter, Merche Loureiro, Jose Lozano, Sandra Martin, José Luís Merino, Albert Morales, Carme Oller, ONCE Barcelona, PHONOS, Shaun Pilgrem, Jordi Ros, Paolo Rosso, Ernesto Saade, Sala Blu Stazione Santa Lucia, Sala Consiliare di San Lorenzo, Scoleta dei Calegheri, Angela Vettese and Giuseppe Vigolo.
A PROJECT OF / Un progetto di
Antoni Abad
CURATED BY / Curato da
Mery Cuesta and Roc Parés
ORGANIZATION AND PRODUCTION / Organizzazione e produzione
Institut Ramon Llull
CARTOONIST / Fumettista
Max
EXPEDITION MAPPING COORDINATION / Coordinamento tour mappatura
Valeria Bottalico
RESEARCH AND SEMINAR COORDINATION / Ricerca e coordinamento seminario
Mario Ciaramitaro
COMMUNICATION AND DESIGN FOR ALL / Comunicazione e Design for All
Avanti-Avanti Studio
VIDEO
Danto Productions
EXHIBITION SET UP / Allestimento mostra
Art %
BLINDWIKI WEB AND APP DEVELOPMENT / Sviluppo web e app BlindWiki
Matteo Sisti Sette e AKX Development
Visit Base Camp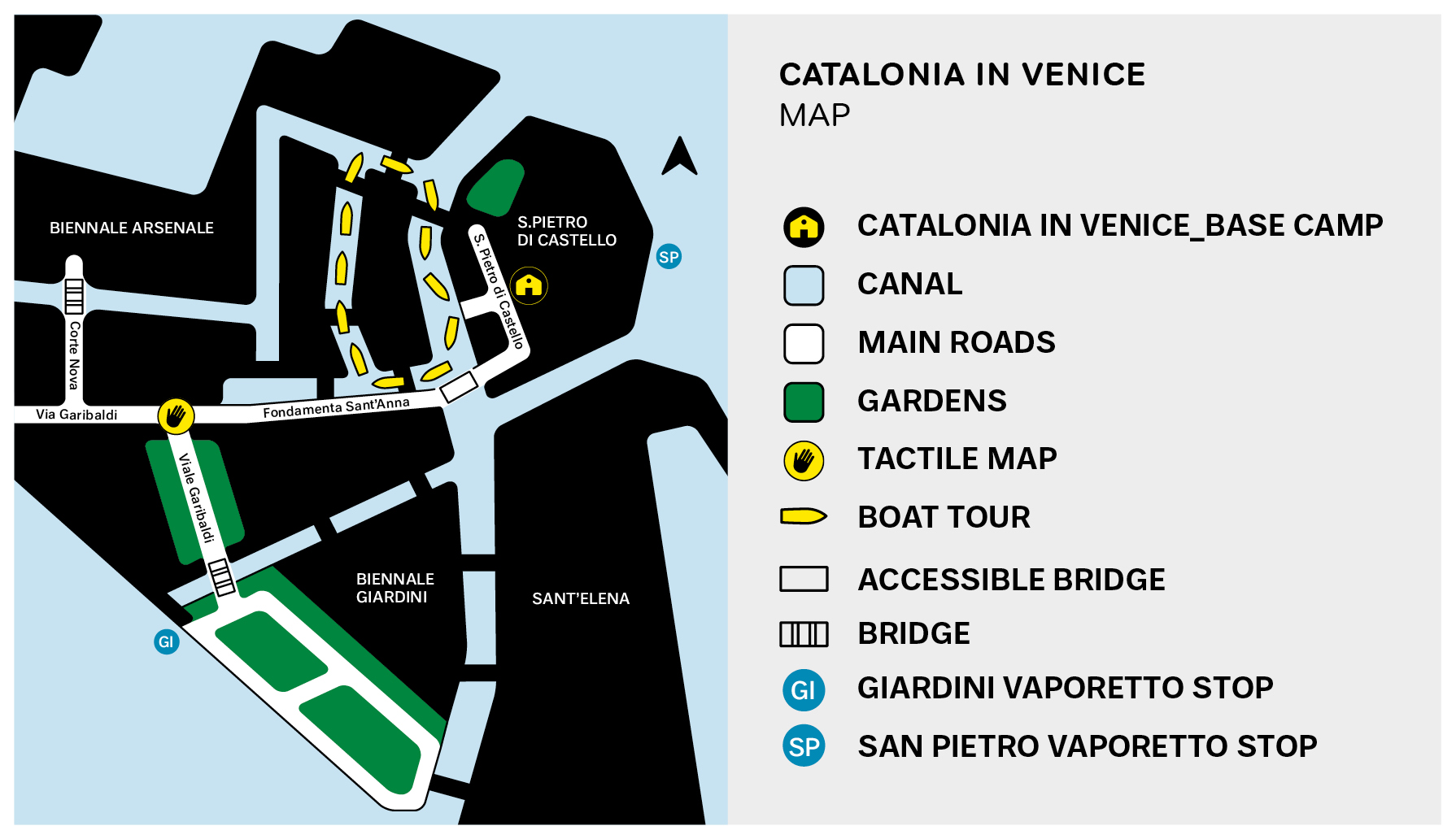 OPENING TIMES: May 13rd to November 26th, 2017. From 10:00am to 6:00pm
MONDAYS CLOSED (except May 15th, August 14th, September 4th, October 30th and November 20th)
Your accessible Basecamp
List of pictographs with their description

Free entrance

Rest area

Free wifi access
---

Subtitles for deaf and hard of hearing people
---
---

Wheelchair accessible
---


Resources for people with vision impairment:

Guide dogs welcome

Large and high contrast characters

Texts in braille

Maps and tactile comic

Audio description

FREE BOAT TOUR
Free Boat Tour guided by blind people. Leaving from the dock located in front of the Base Camp, passengers explore the city aboard a sampierota, the traditional Venetian voga boat.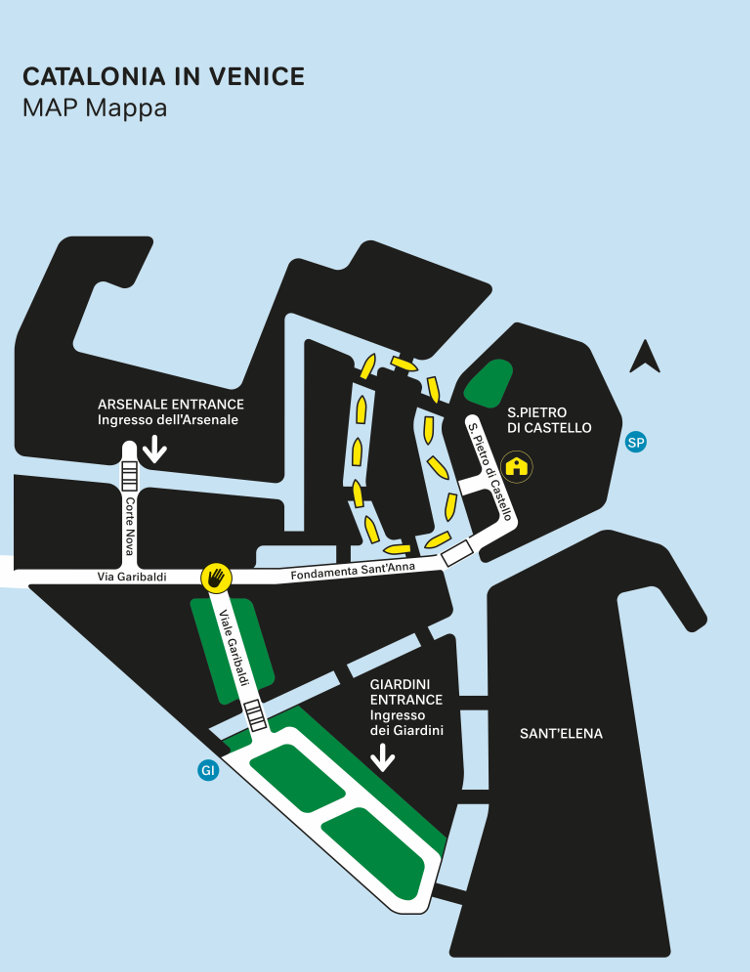 The Catalonia in Venice 2017_La Venezia che non si vede project takes place both inside and outside the exhibition space, floating along the canals surrounding the base camp at the Cantieri Navali. This is the focal point of an inclusive sensory journey: the water tour is led by blind people, and leaves from the pier outside the exhibition to explore the city aboard a so-called sampierota, a traditional Venetian rowing boat. A sensory experience to help you get to know the city in its most real and yet unknown dimension. The tour is free for 4 passengers at a time; the duration of the tour is approximately 20 minutes. For the project's artistic and conceptual features, the artist Antoni Abad chose the Venice On Board Opens in a new tab Association to create the boat tour: a sports club based in Cannaregio, it aims to promote and popularize the use of traditional boats and encourages people to learn rowing as a Venetian cultural heritage
On the inauguration days, the boat tours will be taking place all day, while over the six months of opening the tours will take place on Friday and Saturday afternoons.
During September there will also be tours from 15 am to 18 pm on Fridays and Saturdays. In October tours will take place on Fridays and Saturdays from 11am to 3pm, in November the tours will be on the 24th and 25th from 11 am to 3 pm. For further information please call the mobile phone +39 342 5005393 or write to biennal@llull.cat
The tour schedule may change due to the weather or for organizational reasons.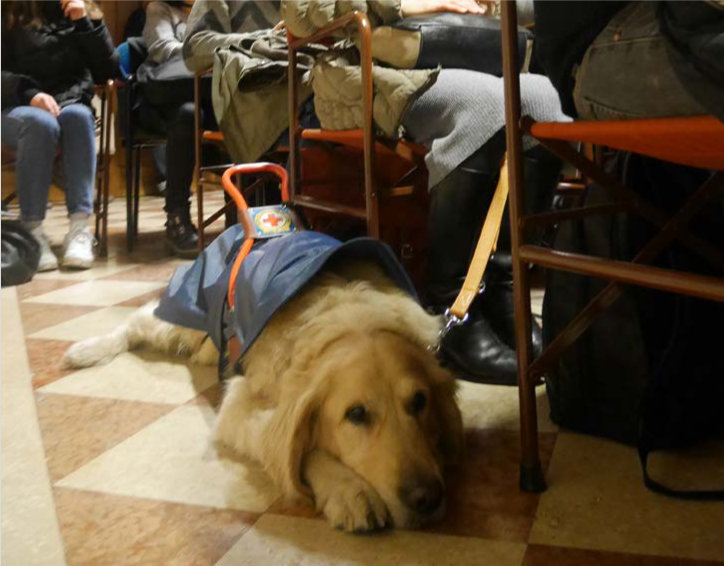 Seminar
Parallel to these activities, on May 15th and 16th "Catalonia in Venice _ La Venezia che non si vede" presents an international seminar under the title of "Cartographies of the Unseen". Coordinated by Mario Ciaramitaro, researcher at Università Iuav di Venezia, and Roc Parés, co-curator of the Catalan project and researcher at Universitat Pompeu Fabra, the conference focused on the critical and poetic practices that include geolocating, sensorialization and social engagement, as means to research accessibility both in urban spaces and digital interfaces.
With the support of:
Venue: Aula Tafuri, Palazzo Badoer. Università Iuav di Venezia Opens in new tab
Publication
Tactile comic with haut-relief designs by Max (cartoonist Francesc Capdevila, winner of the 2007 National Award for Comic in Spain). The drawings were created in collaboration with the participants who are blind, under the direction of Mery Cuesta, co- curator of "Catalonia in Venice".
Publication Credits
Editor

: Mery Cuesta

Texts

: Mery Cuesta and Roc Parés

Tactile Comic

: Max

Design for all and graphic design

: Avanti-Avanti Studio

Printers

: Vanguard Grafic S.A.

Cover

: Giulia Oblach's photo by Antoni Abad

Translations

: Emilie Delcourt (English) Tiziana Camerani (Italian)

ISBN

: 978-84-697-2447-7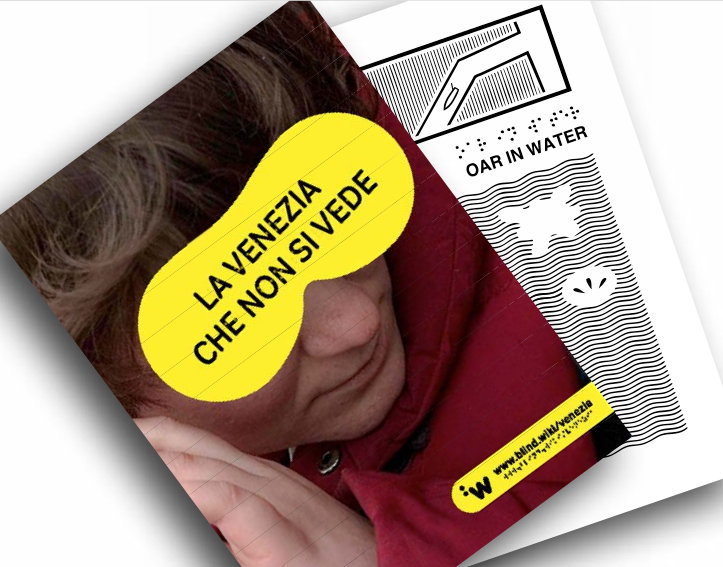 Italian and international Press:
Catalan and Spanish Press: