Wednesday, Feb. 8
Lincoln Center Film Society
Walter Reade Theater
Another Spanish Cinema: Film in Catalunya, 1906 – 2006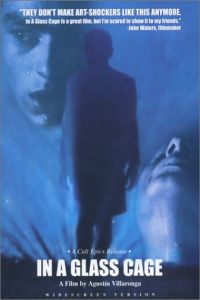 In a Glass Cage / Tras el cristal
Agustí Villaronga, 1987; 100m
"They don't make art-shockers like this anymore. In a Glass Cage is a great film, but I'm too scared to show it to my friends." - John Waters
Warning: this film contains images that some audiences might find upsetting.
In a house set off by itself on a lonely stretch of coast lives Klaus, a former medical officer in a concentration camp, his wife Griselda and her daughter Rena. Since suffering an accident, Klaus has been paralyzed and forced to stay in an iron lung. One day a young man, Angelo, shows up at their door, looking for work; they try to dissuade him, but it turns out Angelo has some information on one of Klaus's past crimes, so they allow him to stay and become Klaus's nurse. Gradually, it come to seems that Angelo has come not so much to care for Klaus as to learn from him; he's clearly bent on following in his master's nefarious footsteps, following his model to the end of the line. Still banned in Australia, In a Glass Cage is an extraordinarily upsetting film ; Villaronga so carefully and powerfully creates an atmosphere of total depravity, a world with no rules or boundaries, that watching the story unfold is profoundly unsettling - these are people completely aware of who they are and what they've done who reveal not a shred of conscience. Not for the faint-hearted, but not to be missed.
Wed Feb 8: 1; Sat Feb 11: 9:45 ; Sun Feb 12: 3
Warsaw Bridge / Pont de Varsòvia
Pere Portabella, 1989; 90m
One of the key figures, not only of Catalan but of Spanish cinema, Pere Portabella began his career as a producer of such seminal works as Saura's Los Golfos and Buñuel's Viridiana. In the 60s he was one of the founders and guiding lights of the Barcelona School , contributing to a number of its main works. After over ten years of inactivity in the cinema, Portabella roared back, arriving at the 1989 Cannes Film Festival with Warsaw Bridge . The film sets in motion three different characters, whose stories cross, run parallel or at times completely veer away from each other. Continuing with the experimental narrative approach that had characterized his work in with the Barcelona School, Portabella creates a kind of "city symphony" of Barcelona (complete with a symphony orchestra playing outdoors), moving us through a dizzying number of locations as his characters keep trying to adjust to their new surroundings.
Wed Feb 8: 3; Sat Feb 11: 3:30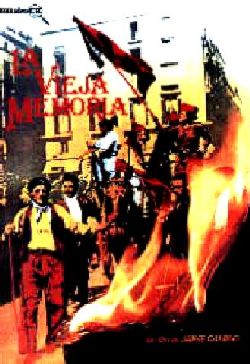 The Old Memory / La vieja memoria
Jaime Camino, 1978; 160m
"I did not want to describe the truth of what happened during the Civil War, only to register memories of it." - Jaime Camino
After Franco's death (1975), a number of films, novels and other works were released that began to explore the Civil War from perspectives that just a few years earlier would have been forbidden. Jaime Camino's magisterial The Old Memory is perhaps the key work here - not so much for its particular position or revelations about the Civil War, but more for the way it addresses the processes by which historical events are recalled and put to use. Weaving together documentary period footage with interviews with many of the surviving figures who either appear or are often referred to in that footage, Camino reveals the gaps and contradictions that emerge between the records of history and our memories of them. Shifting political realities, later revelations, current attitudes - these and other developments have profound effect on how we can know the past. Among those we see and hear in the film are former dictator Primo de Rivera, Christian Social Democrat Gil Robles, and anarchist Frederica Montseny, but perhaps the most remarkable moments belong to Dolores Ibárruri, "La Pasionaria," whom Camino had to travel to Moscow to film.
Sun Jan 29: 3; Wed Feb 8: 3