Sunday, Feb. 5
Lincoln Center Film Society
Walter Reade Theater
Another Spanish Cinema: Film in Catalunya, 1906 – 2006
Father Juanico / El Padre Juanico
José Amich & Bert and Angel Guimerá, 1923; 91m
Piano accompaniment by Donald Sosin
Barcelona was a very active center for film production throughout the silent era, losing out to Madrid only with the coming of sound. After seeing the woman he loves married off to someone else, cowherd Juanico leaves his town to look for a life elsewhere; years later he returns home - but as the parish priest. Meanwhile, the woman he loved has died, leaving a daughter who looks exactly like her. This young woman, Inés, is an orphan living with an abusive uncle, who plans to marry her off to a rich man she doesn't love. Will history repeat itself?; and can Father Juanico control the emotions that still rampage inside him? Based on a popular story by co-director and co-screenwriter Angel Guimerá, Father Juanico was a popular hit all over Spain , and was even seen in several foreign countries.
Sun Feb 5: 2
Films of the Spanish Civil War. Compilation program, approx. 80m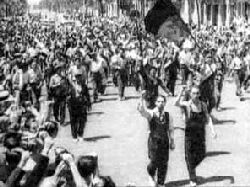 Report on the Revolutionary Movement in Barcelona / Reportaje de movimento revolucionario en Barcelona
Mateo Santos, 1936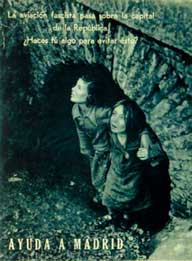 Help Madrid! / Ayuda a Madrid!, Félix Marquet, 1936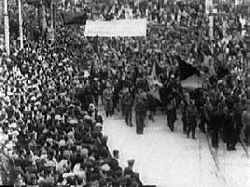 The Burial of Durruti / L'enterrament de Durruti, CNT-FAI, 1936
Heroic Division / División heroica, Félix Marquet and Adrian Porchet, 1937;
Catalunya Martyred/ Catalunya màrtir, J. Marsillach, 1938;
A rare opportunity to see a number of works created in Catalunya during the Spanish Civil War; each film an invaluable record of the times, created at the moment when the battle between the Republic and Franco's forces was raging all over Spain. Report on the Revolutionary Movement was one of the first films produced by the anarcho-syndicalists, showing the mounting of defenses against the Franco forces; Help Madrid! details the help being sent by Catalans to the besieged Spanish capital; The Burial of Durruti records a burial that became a rallying point for the resistance; Heroic Division looks at the battle to take Huesca; and Catalunya Martyred captures the terrible effects of Franco's aerial bombardment of Barcelona.
Sun Feb 5: 4:10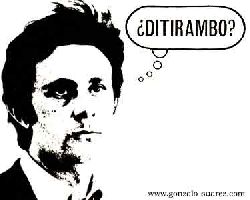 Ditirambo
Gonzalo Suárez, 1967; 92m
This modernist updating of the detective film begins as reporter José Ditirambo is hired by the bitter widow of a recently deceased writer to find the young woman who, according to the widow, destroyed her husband's life. Unsure of how far he wants to go with his assignment, Ditirambo nevertheless begins to assemble a wide variety of possible connections to the young woman. He visits one of her ex-lovers, the millionaire Palacios, who give him a suitcase full of money for her; another connection gives him a gun with which he should kill her. "I have the impression that the world was created just for me" confesses Ditirambo at one point, and that suspicion that everything is predestined runs through the film, as everyone eventually is revealed to be part of someone else's plot.
Sun Feb 5: 6; Tue Feb 7: 4:20
Ocaña, Intermittent Portrait / Ocaña, retrat intermitent
Ventura Pons, 1979; 90m
Made on a shoestring, Pons' first major work is a remarkable and touching look at the life and world of one of Barcelona 's most famous and outrageous transvestites. An Andalusian performance artists and political activist, Ocaña seemed to embody in his/her person several margins of Spanish society in the immediate post-Franco era, bearing witness in his frequent, extravagant walks down Barcelona's ramblas to a spirit of rebelliousness that years of dictatorship had been unable to squelch. A milestone in Spanish cinema, and still a great cult favorite, Ocaña helped open a dialogue on sexual politics that continues to develop today.
Sun Feb 5: 8; Tue Feb 7: 8:30