Tuesday, January 31
Lincoln Center Film Society
Walter Reade Theater
Another Spanish Cinema: Film in Catalunya, 1906 – 2006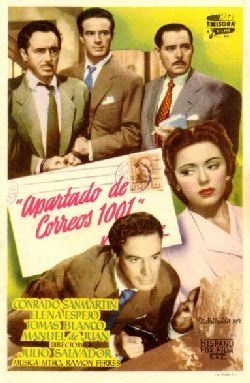 Post Box 1001 / Apartado de Correos 1001
Julio Salvador, 1950; 96m
A young man steps off a bus in downtown Barcelona ; shots ring out, and moments later that young man lies dead on the sidewalk. At first there seems to be no motive nor clues -possibly a case of being in the wrong place at the wrong time. But gradually the two police detectives assigned to the case uncover a web of intrigue that spreads out from a certain post box in the central post office. Ten years after the Civil War, the Spanish film industry had re-grouped and reorganized, and was already producing a steady stream of works in a range of genres. A solid "police procedural," in which we closely follow the investigation, Post Box 1001 was clearly inspired by works such as The House on 92nd Street and Call Northside 777, Hollywood crime films that mixed real locations with staged dramatic action.
Tue Jan 31: 1 & 7
Life in Shadows / Vida en sombras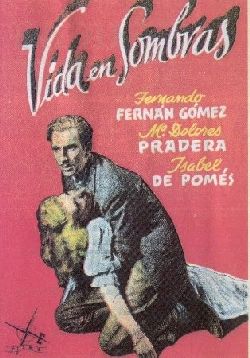 Lorenzo Llobet Gracia, 1948; 80m
Lorenzo Llobet Gracia's sole feature, Life in Shadows, stands as one of most remarkable films ever made - in Spain or perhaps anywhere. The film begins at the turn of the century; as she's watching a demonstration of that new moving pictures machine, a young woman gives birth right there to her first child. Her child, a son called Carlos, grows up completely crazy for the movies; he collects everything he can, and as soon as he can get his hands on a camera, he starts making his own films. July 18th, 1936: the Spanish Civil War erupts, and Carlos (now played by the great Fernando Fernán Gómez) goes out to record the first images of the fighting; returning home, he finds his wife dead from a sniper's bullet and his world destroyed. Because of the movies, he lost all that he had held dear - but only the movies can give him back his life. The film's climax, involving an encounter between Carlos and Hitchcock's Rebecca, has to be seen to be believed.
Sat Jan 28: 3; Tue Jan 31: 3 & 9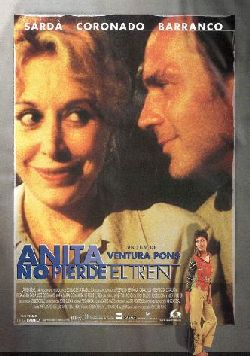 Anita Takes a Chance / Anita no perd el tren
Ventura Pons, 2001; 98m
Recent Catalan cinema is perhaps best known through the work of Ventura Pons, whose insightful, funny and often provocative portraits of his native Barcelona have won him fans the world over. Based on a novel by Lluis-Anton Baulenas, Anita features a bravura performance by a longtime Pons favorite, the wonderful Rosa Maria Sardà, in the title role. For thirty years Anita has worked as a cashier at an old movie house; now, new owners have decided to knock it down and turn it into a multiplex. Out of a job and terrified of her future, Anita finds herself drawn each day to her former workplace, now a construction site, until one day she spies Antoni (José Coronado), a handsome young bulldozer driver. Through Antoni, Anita will discover that indeed there can be life after the movies. Pons finds just the right pitch for the film, allowing us to laugh along with Anita at her discovery of sides to her personality she scarcely knew existed while reminding us of the hint of desperation that's always just below her surface calm.
Sat Jan 28: 5; Tue Jan 31: 5