Saturday, January 28
Lincoln Center Film Society
Walter Reade Theater
Another Spanish Cinema: Film in Catalunya, 1906 – 2006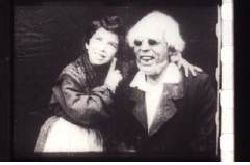 The Beginnings of Filmmaking in Catalunya
Approximately 70m with live piano accompaniment
The cinema spread quickly in Spain ; by 1914 there were 900 establishments showing films, as well as a number of traveling film shows. In the first decades of the new medium, Barcelona established itself as the center of Spanish filmmaking, a position it would keep, although not without challenge from Madrid , up until the Civil War. Films in every genre were produced - special effects or trick films, melodramas, comedies and films d'art, so-called art films, usually adaptations of stage plays shot in a highly theatrical style. This program features The Lonely Worm (El gusano solitario, 1912) , a marvelous trick film starring French comic Andre Deed by Segundo de Chomón, an innovative film pioneer who worked in France and Italy as well as his native Spain; The Village Blind Man (El ciego de la aldea, 1907, Joan Codina), in which a blind man and his young friend foil a kidnapping; Don Juan Tenorio (1908, Alberto Marro and Ricardo de Bañas), a version of the ever-popular romantic drama; and Fatal Love (Amor que mata, 1911, Joan Codina), an unsettling tale of revenge scripted and photographed by Fructuoso Gelabert, another key Spanish film pioneer.
Sat Jan 28: 1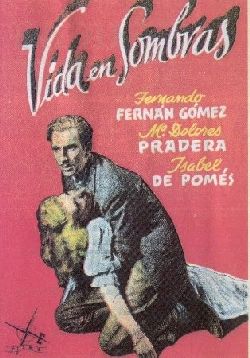 Life in Shadows / Vida en sombras
Lorenzo Llobet Gracia, 1948; 80m
Lorenzo Llobet Gracia's sole feature, Life in Shadows, stands as one of most remarkable films ever made - in Spain or perhaps anywhere. The film begins at the turn of the century; as she's watching a demonstration of that new moving pictures machine, a young woman gives birth right there to her first child. Her child, a son called Carlos, grows up completely crazy for the movies; he collects everything he can, and as soon as he can get his hands on a camera, he starts making his own films. July 18th, 1936: the Spanish Civil War erupts, and Carlos (now played by the great Fernando Fernán Gómez) goes out to record the first images of the fighting; returning home, he finds his wife dead from a sniper's bullet and his world destroyed. Because of the movies, he lost all that he had held dear - but only the movies can give him back his life. The film's climax, involving an encounter between Carlos and Hitchcock's Rebecca, has to be seen to be believed.
Sat Jan 28: 3; Tue Jan 31: 3 & 9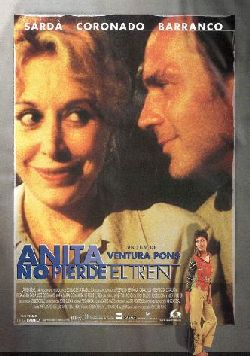 Anita Takes a Chance / Anita no perd el tren
Ventura Pons, 2001; 98m
Recent Catalan cinema is perhaps best known through the work of Ventura Pons, whose insightful, funny and often provocative portraits of his native Barcelona have won him fans the world over. Based on a novel by Lluis-Anton Baulenas, Anita features a bravura performance by a longtime Pons favorite, the wonderful Rosa Maria Sardà, in the title role. For thirty years Anita has worked as a cashier at an old movie house; now, new owners have decided to knock it down and turn it into a multiplex. Out of a job and terrified of her future, Anita finds herself drawn each day to her former workplace, now a construction site, until one day she spies Antoni (José Coronado), a handsome young bulldozer driver. Through Antoni, Anita will discover that indeed there can be life after the movies. Pons finds just the right pitch for the film, allowing us to laugh along with Anita at her discovery of sides to her personality she scarcely knew existed while reminding us of the hint of desperation that's always just below her surface calm.
Sat Jan 28: 5; Tue Jan 31: 5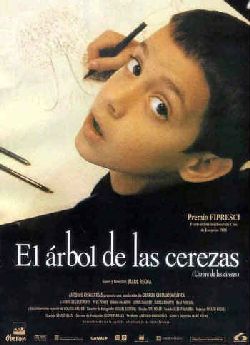 The Cherry Tree / L'arbre de les cireres
Marc Recha, 1998; 93m
One of the most impressive talents to have emerged in Spain in the past decade, Marc Recha creates a finely observed, intimate cinema that draws viewers into the very texture of his characters' lives. Set in a remote Catalan village, The Cherry Tree focuses on Angel, a young boy living with his grandmother and sister; his mother is off working in a circus, his father is long gone. Angel fears that his grandmother will soon be going as well, to a better place far away that he imagines full of the cherry trees he takes such delight in drawing. His sister also thinks of leaving, and has tried to do so by casting her lot with a number of men who eventually disappointed her. But then a new doctor moves into the village. Recha presents these lives and those of their fellow villagers through the eyes of Angel, who will take from all the experiences he sees a sense of what he can expect from life.
Sat Jan 28: 7:15 ; Wed Feb 1: 7:15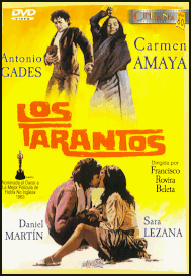 Los Tarantos
Francisco Rovira Beleta, 1962; 92m
The great Carmen Amaya - for many the finest flamenco dancer who ever lived - performed in this cinematic adaptation of Romeo and Juliet just months before she died. Set in the Romna ("Gypsy") community on the outskirts of Barcelona, the story begins as the eyes of Juana (Sara Lezana), from the Zorango clan, meet those of Rafael (Daniel Martin), of the rival Taranto clan, at a wedding; it's love at first sight, but both are aware of just how impossible that love is. When Rafael's mother, Angustias (Amaya), discovers her son's love for Juana, she's at first horrified at his betrayal of the clan but gradually is won over and agrees to act as a go-between. Thus is set in motion a series of events, of missed encounters and false impressions, that will lead inevitably to the tragic finale. The dance numbers - which also feature future flamenco star Antonio Gades in a crucial role - are seamlessly woven into the dramatic action, not so much interrupting the story but accenting it. A remarkable film, far ahead of its time in many ways, and of course a rare opportunity to savor the artistry of the unforgettable Amaya.
Fri Jan 27: 4; Sat Jan 28: 9:20