Friday, January 27
Lincoln Center Film Society
Walter Reade Theater
Another Spanish Cinema: Film in Catalunya, 1906 – 2006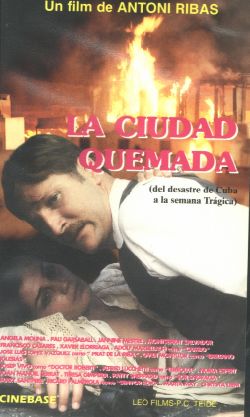 The Burned City / La ciutat cremada
Antoni Ribas, 1976; 160m
One of the first Catalan-language films released after the death of Franco, The Burned City begins with a steamship coming into dock in Barcelona harbor; on board are soldiers and former colonists from Cuba. Among them are Frederic Palau and his soldier friend Josep; Frederic belongs to a well-established family in Barcelona ; Josep's only "capital" is himself and his ambition. Upon arrival, Frederic returns to the family home with his friend, who soon catches the eye of Remei, Frederic's sister. The fortunes of the Palau family and the emotional entanglements of its children are set against the rapidly radicalizing background of Catalan nationalism, given new impetus since the loss of its overseas colonies has brought the central Madrid government to a crisis point. Director Antoni Ribas has a sure hand with his large cast, which includes Angela Molina, José Luis López Vázquez, Francesc Casares and Xavier Elorriaga.
Fri Jan 27: 1; Sat Feb 4: 8:15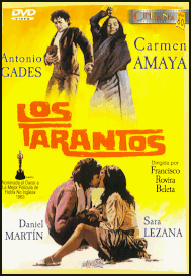 Los Tarantos
Francisco Rovira Beleta, 1962; 92m
The great Carmen Amaya - for many the finest flamenco dancer who ever lived - performed in this cinematic adaptation of Romeo and Juliet just months before she died. Set in the Romna ("Gypsy") community on the outskirts of Barcelona, the story begins as the eyes of Juana (Sara Lezana), from the Zorango clan, meet those of Rafael (Daniel Martin), of the rival Taranto clan, at a wedding; it's love at first sight, but both are aware of just how impossible that love is. When Rafael's mother, Angustias (Amaya), discovers her son's love for Juana, she's at first horrified at his betrayal of the clan but gradually is won over and agrees to act as a go-between. Thus is set in motion a series of events, of missed encounters and false impressions, that will lead inevitably to the tragic finale. The dance numbers - which also feature future flamenco star Antonio Gades in a crucial role - are seamlessly woven into the dramatic action, not so much interrupting the story but accenting it. A remarkable film, far ahead of its time in many ways, and of course a rare opportunity to savor the artistry of the unforgettable Amaya.
Fri Jan 27: 4; Sat Jan 28: 9:20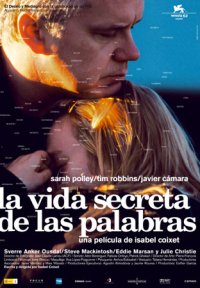 The Secret Life of Words / La Vida Secreta de las Palabras
Isabel Coixet, 2005; 120 min.
On a lonely North Sea oil rig, a woman arrives to take care of a worker seriously burned in an accident. She is Hanna (Sarah Polley)-not really a nurse, but someone who hopes that her mission will fill in the void left by so much of the rest of her life; her patient is Josef (Tim Robbins), garrulous and outgoing, and temporarily blinded. Over the days and weeks of his recuperation, their contact will lead to each one revealing long-kept secrets both to each other but importantly to themselves. Hanna will also become part of the rig's very special community, which includes Simon (Javier Camara), a Spanish cook whose attempts at haute cuisine are rarely appreciated, and Dimitri (Sverre Anker Ousdal), a loner who sense that he and Hanna share a hidden bond. Produced by El Deseo, the production company of Pedro and Agustín Almodóvar, The Secret Life of Words again teams Barcelona-native Isabel Coixet with Sarah Polley, star of her earlier My Life Without Me.
Fri Jan 27