Saturday, Feb. 11
Lincoln Center Film Society
Walter Reade Theater
Another Spanish Cinema: Film in Catalunya, 1906 – 2006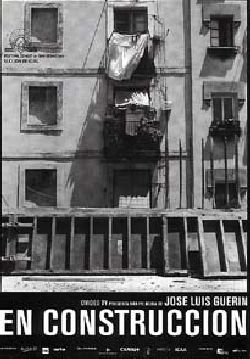 Work in Progress / En construcción
José Luis Guerin, 2001; 125m
One of the rare experimental filmmakers whose works often draw considerable audiences, José Luis Guerín here offers a delightful visual essay on the transformation of Barcelona's "Barrio Chino" - so named because it was near the docks from which ships would embark for the Far East. Long known for its dimly-lit cabarets, colorful characters and narrow back alleys, the Barrio inevitably began to fall victim to the wave of "urban renewal" that swept Barcelona around the time of the 1992 Olympic Games. Weaving together sequences of the Barrio's inhabitants, the construction workers sent to tear it down, and visitors hoping to catch a last glimpse of history, as well as beautiful period footage that show the Barrio Chino in its more notorious days, Guerin takes us on a journey to one of Spain 's most legendary neighborhoods. Awarded the International Critics' Prize at the 2001 San Sebastian International Film Festival.
Fri Feb 10: 4; Sat Feb 11: 1
Warsaw Bridge / Pont de Varsòvia
Pere Portabella, 1989; 90m
One of the key figures, not only of Catalan but of Spanish cinema, Pere Portabella began his career as a producer of such seminal works as Saura's Los Golfos and Buñuel's Viridiana. In the 60s he was one of the founders and guiding lights of the Barcelona School , contributing to a number of its main works. After over ten years of inactivity in the cinema, Portabella roared back, arriving at the 1989 Cannes Film Festival with Warsaw Bridge . The film sets in motion three different characters, whose stories cross, run parallel or at times completely veer away from each other. Continuing with the experimental narrative approach that had characterized his work in with the Barcelona School, Portabella creates a kind of "city symphony" of Barcelona (complete with a symphony orchestra playing outdoors), moving us through a dizzying number of locations as his characters keep trying to adjust to their new surroundings.
Wed Feb 8: 3; Sat Feb 11: 3:30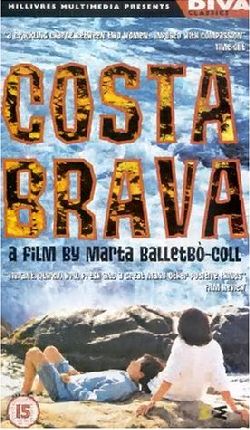 Costa Brava
Marta Balletbò-Coll, 1995; 95m
Ana - played by director Balletbò-Coll -works as a tour guide but is really a performance artist, trying to scrape together the funds to stage a new monologue. One day an American engineer living in Barcelona , Montserrat , comes on her tour. Although claiming not to be interested sexually in women, Montserrat feels attracted to Ana, and the two begin to spend a lot of time together. For her part, Ana doesn't quite know what to make of her new friend, whose culture and background - American, Jewish, science, academia -couldn't be further from her own. Yet gradually a bond begins to grow between them. Balletbò-Coll, who studied filmmaking at Columbia , brings a wonderfully light touch to the story; the action is so easy-going and free-flowing, especially the scenes between the two women, that the film has an improvisatory feel. Winner of Audience Awards at both the San Francisco and Los Angeles Gay and Lesbian Festivals.
Sat Feb 11: 5:30 ; Tue Feb 14: 4:15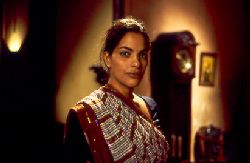 East of the Compass / L'est de la brúixola
Jordi Torrent , 2005; 97m
A long-time New York resident, Jordi Torrent brings an American indie sensibility to this touching story largely set in a contemporary Barcelona rooming house. The residents include various nationalities of Europeans, Arabs, Africans and Asians, all living together in harmony, somewhat unsettled by the news that the place is about to be sold and then converted into more lucrative housing. Into the mix comes a South Asian woman (Sarita Choudhury) and her son; the woman seems to be in Barcelona on some kind of mission, but her fellow boarders at first can't figure out what it might be. The great strength of East of the Compass lies in its gentle depiction of a new, decidedly multi-ethnic, multi-cultural Barcelona , presenting this development not as a social issue but simply as a present-day reality.
Sat Feb 11: 7:30 ; Tue Feb 14: 6:15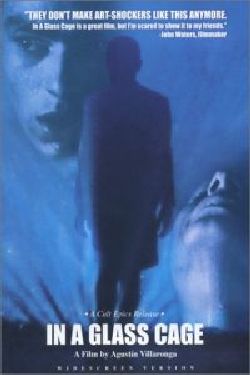 In a Glass Cage / Tras el cristal
Agustí Villaronga, 1987; 100m
"They don't make art-shockers like this anymore. In a Glass Cage is a great film, but I'm too scared to show it to my friends." - John Waters
Warning: this film contains images that some audiences might find upsetting.
In a house set off by itself on a lonely stretch of coast lives Klaus, a former medical officer in a concentration camp, his wife Griselda and her daughter Rena. Since suffering an accident, Klaus has been paralyzed and forced to stay in an iron lung. One day a young man, Angelo, shows up at their door, looking for work; they try to dissuade him, but it turns out Angelo has some information on one of Klaus's past crimes, so they allow him to stay and become Klaus's nurse. Gradually, it come to seems that Angelo has come not so much to care for Klaus as to learn from him; he's clearly bent on following in his master's nefarious footsteps, following his model to the end of the line. Still banned in Australia, In a Glass Cage is an extraordinarily upsetting film ; Villaronga so carefully and powerfully creates an atmosphere of total depravity, a world with no rules or boundaries, that watching the story unfold is profoundly unsettling - these are people completely aware of who they are and what they've done who reveal not a shred of conscience. Not for the faint-hearted, but not to be missed.
Wed Feb 8: 1; Sat Feb 11: 9:45 ; Sun Feb 12: 3