Housing Works Bookshop
126 Crosby Street
7:00 p.m.- 8:30 p.m.
Readings in Catalan fiction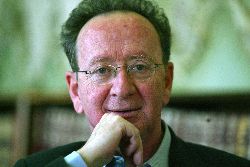 Joan Francesc Mira was born in Valencia in December of 1939. He spent his childhood and adolescence, right in the wake of the Spanish Civil War, dividing his time between the city and the country. He studied Philosophy at the Gregorian University of Rome and at the University of Valencia , where he got his doctorate in 1971. For many years, he was a professor of Greek. He practiced cultural anthropology with Claude Lévi-Strauss's team in Paris , on the UNESCO's International Council of Social Sciences, and as a guest at Princeton . He created the Ethnology Museum of Valencia. He is currently carrying out his essay work in the field of anthropological reflection, whether on the future of traditional societies or on the theory of culture and nation.

At the same time, he has also dedicated himself to literary creation in the field of fiction, which has taken up all of his time for many years.

The city of Valencia and its surroundings are the main setting of his stories: a space undergoing a brutal transformation, with internal conflict, and with difficulties in fitting together its powerful past and its conflictive present. His characters are often people who are a bit lost, failures resulting from clashing with reality. He has also entered a bit into the terrain of the historical novel, focusing on Pope Alexander VI Borja, as well as translating great classic texts such as the Divine Comedy or the New Testament , as a literary work.

Joan Francesc Mira has not shied away from participating in public life, as a member and supporter of civil organisations, as an author of articles for the press and non-fiction books for the general public, and as an active participant in civil and political life. He has won the most important awards in his country, including the Honour Award of Catalan Letters.