February 11, 2006
Poets House
72 Spring Street, 2nd Floor, NYC

Catalan Poetry Symposium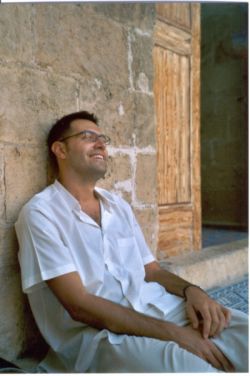 Manuel Forcano has a doctorate in Semitic Philology. He completed his Hebrew studies in Israel and studied Arabic in Syria and Egypt . He has worked as a lecturer in Hebrew and Aramaic at the University of Barcelona and taught Hebrew (from 1992 to 1998) at the Associació de Relacions Culturals Catalunya- Israel [Association of Cultural Relations Catalonia-Israel], and at the University of Girona (1995). He also translated Hebrew poetry into Catalan, for example the work of the poets Pinkhas Sade, Roni Someck and Yehuda Amichai. He has also translated E.M. Forster. He has recently published, along with Margarita Castells, a translation into Catalan of Ibn Battuta's The Journeys of Ibn Battuta.
Forcano has received many prizes for his poetic work, which includes the books From One Memory to Another, winner of the 1992 Amadeu Oller Prize; Barefoot Hands, winner of the 1992 J.M. López Picó Prize; By Night, winner of the Viola d'Or and Viola d'Argent Prizes in the 1995 Jocs Florals [literary competition] of Barcelona ; Corinth , winner of the 2000 Jocs Florals of Barcelona Prize; Like A Persian, winner of the 2002 International Tivoli Europe Giovanni Prize, and Baghdad Train, which received the 2003 Carles Riba Prize.
Selected Works
. D'un record a l'altre (La Magrana, 1993) ['From One Memory to Another'].
. Les mans descalces (Columna, 1993) ['Barefoot Hands'].
. De nit (Moll, 1999) ['By Night'].
. Corint (Proa, 2000) [' Corinth '].
. Com un persa(Tàndem, 2001) ['Like A Persian'].
. El tren de Bagdad(Proa, 2004) ['Baghdad Train'].