3/05/2011 -
7/05/2011
Portugal Street
WC2A 2HT
19:30 h
Prices
: £10 - £30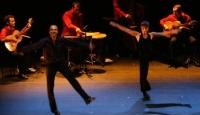 Tap Olé, Photo by Joel Valera
TAP OLÉ: TAPEANDO
Unique, spectacular, original and energetic, Tap Olé creates a contemporary fusion of tap dancing with Spanish guitar.
Exploring the endless sound and choreographic possibilities of this union, tap dance can find a new way to express itself both musically and choreographically, combining sonorities such as Latin, flamenco, jazz and Mediterranean rhythms, in a process of joint creation between dancers and musicians.
04/06/2011
Rosebery Avenue
EC1R 4TN
14:30 h and 19 h
Prices
: Adults £10
infants £7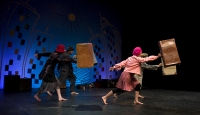 Nats Nus
NATS NUTS DANSA: MOMENTARI
Momentari transports us to a world of sensations and perceptions. It relates simple yet extremely intense moments that show us to what extent it is wonderful to be alive.
23/06/2011 - 24/06/2011
Rosebery Avenue
EC1R 4TN
19:30 h
Prices
: £10 - £22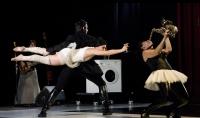 Sol Picó, Photo by Marta Vidanes
Sol PICÓ Companyia de dansa THE LAKE OF THE FLIES
In this intense show, Sol Picó uses her tried and tested skills: a unique sense of humour, readings on various levels and live. She ensures that the audience takes part in the show by talking directly to spectators.