08/04/2011
83 Rivington Street, London, EC2A 3AY
19:00 h
Prices
: £15 (advance)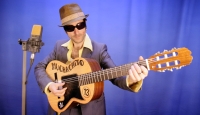 Muchachito, Photo by Hara Amorós
Muchachito & Santos de Veracruz
Intimate yet energetic, Muchachito's performances blend music and monologues. He is accompanied by automata, which play the sounds that create the atmosphere of the show. He sings his songs to the rhythm of his feet tapping on a wooden base. Stories of love, broken hearts and plenty of shameless behaviour, they tell of shady characters, both real and fictional.
He will be accompanied on stage by the artist Santos de Veracruz, his inseparable companion, who will paint on stage to the rhythm of the music throughout the concert.
15/04/2011
Silk Street,
London, EC2Y 8DS
19:30 h
Prices
: £12 - £22
infants £7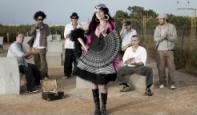 Ojos de brujo, Photo by Oriana Elisabe
Ojos de Brujo: 10th anniversary
In the tradition of street Rumba and polyglot flamenco, they celebrate freedom, the sensuality of music and the richness of contagious rhythm. It is the flamenco wail (quejío), a festival of sonic experimentation; nomadic and multi-ethnic music sailing the city streets of the world like a crazy ship, communicating, creating and celebrating.