///
15/06/2011 &
16/06/2011

90 Lots Road, Chelsea, London SW10
www.606club.co.uk

£10
Catalan Jazz Nights

Catalan Jazz Nights is the name given to the two evenings at the 606 Club that allow audiences to sample the creative proposals of the contemporary jazz scene in Catalonia and the Balearic Islands. These groups are all characterised by their prestigious and long-standing international presence with a slight local feel, which always refers to the Mediterranean flavour of their music. These two shows are a unique opportunity to discover them.
15/06/2011
20:00 h
Price : £12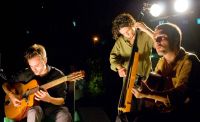 Photo by Josep Loaso
Biel Ballester Trio
This wonderful "gypsy swing" trio specialise in music associated with Django Rheinhardt and the Hot Club de France. Featuring the brilliant guitarist Biel Ballester along with rhythm guitarist Graci Pedro and bass player Leo Hipaucha this excellent band is considered to be one of the finest gypsy jazz trios in Europe
15/06/2011
21:45 h
Price : £12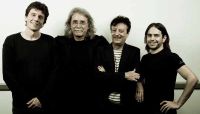 Carles Benavent Quartet
The multi award winning Carles Benavent is regarded as one of Spain's greatest electric bass players and is generally credited with inventing a style of bass playing which has become known as "Flamenco bass". His fretless bass playing first came to prominence in the early 80's with the iconic flamenco guitarist Paco de Lucio, with whom he still performs, and led t o his performing and touring with jazz icon Chick Corea, a musical relationship that has lasted to this day. A player of International standing he was invited to perform with Miles Davies at the Montreux Jazz festival and has performed extensively with a host of great musicians including the Brecker brothers, Don Alias, Didier Lockwood, Steve Gadd and Gil Goldstein.
16/06/2011
20:00 h
Price : £12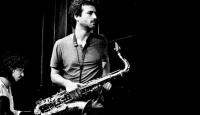 Miquel Fernández Quartet
Miquel Fernández Quartet
Considered to be one of the most fluent and creative of Catalonia and Spain's modern jazz saxophonists, since graduating from Boston's Berklee College of Music in 2003 Miguel Fernandez includes an impressive array of International work both with his own quartet and with World class artists such as Joe Lovano, Paquito de Rivera and James Genus. A multi award winning saxophonist his latest CD won the Jaça award for the Best Spanish Album of 2010. He will be appearing tonight with his quartet featuring the highly regarded Albert Bover on piano, Masa Kamaguchi on double bass and David Xirgu on drums.
16/06/2011
21:45 h
Price : £12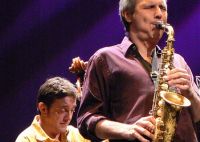 CSM (Colina-Sambeat-Miralta)
The CMS trio features three of Catalonia and Spain's finest Jazz musicians, Perico Sambeat on saxophone, Javier Colina on double bass and Marc Miralta on drums. Alto and soprano saxophonist Perico Sambeat is widely regarded as one of the most important jazz musicians in Spain, with an extraordinary musical career both inside and outside the country. With more than twenty recordings as a leader and nearly a hundred as a sideman, he includes work with the likes of Brad Mehldau, Kurt Rosenwinkel, Tete Montoliu, Michael Brecker and Pat Metheny on a glittering cv. A multi-award winner he includes the "Bird Award" given by the North Sea Jazz Festival to the musician deserving of wider recognition (2003) and the Spanish award given to the best recording of the year for the "Flamenco Big Band" (2008 and 2009).