24/06/2011
Old Royal Naval College, Greenwich SE10
18:00 h
Free entrance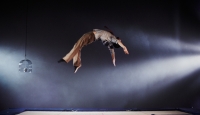 Max Calaf, Photo by Bertil Nilsson
Gravity
Greenwich+Docklands International Festival joins forces with FiraTÓrrega to present a programme of outdoor performance, physical theatre, contemporary dance and installation inspired by the force of gravity. Gravity will bring together outstanding Catalan and British outdoor artists in a specially curated experience which will take place in both London and TÓrrega in 2011.
Res de res + Circo Dux: Pontes
Max Calaf: Somewhere... nowhere! i Why do I have wings if I can't fly?
Fet a MÓ: Pieces a pied.
Guixot de 8: Gargot d'escultura
Company Chameleon: Search and find it
Up and Over it: Irish Dance for the post-pop generation
Acrojou Circus Theatre: Urban Rotations
Llorenš Corbella and FZ Company
Coproducers: Greenwich + Docklands International Festival and FiraTÓrrega.
02/07/2011
Canary Wharf, E14
13:35 h and 15:35 h
Free entrance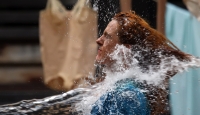 Mar Gˇmez Photo by Santi GarcÝa
Company of Dance Mar Gˇmez: Heart Wash
Heart Wash came about from the theatre company's wish to add to its repertoire a different type of dance in terms of its conception and format. It is a piece that maintains the well-established characteristics of the company's style: the plot, sense of humour and theatricality.