ZA! *//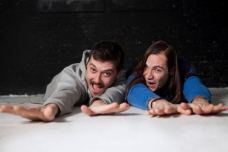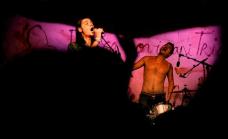 Za! is a band from Barcelona composed by 2 people and 7 instruments (drums, guitar, keyboard, voice, trumpet, kalimba, sampler).
Their music combines african beats, noise, thick distortions, vocal loops, free jazz, sounds from the shepherds of Tuva, balinese polyryhtms, math rock, dadaism, drones and a high percentage of the result left to complete on stage, every night.
Za! have played more than 200 shows including acts in international festivals (Primavera Sound, Sonar Festival, SXSW, Rencontres Trans Musicales, Fusion Festival, Zappanale, Eurosonic), tours in UK, Portugal and Germany and USA sharing shows and tours either with noise bands (Lightning Bolt, Yellow Swans, Zu, etc), rock bands (El Guincho, Delorean, Agent Ribbons, Mark Eitzel, etc) or free jazz artists (Peter Brötzmann, Paal Nilssen Love, etc).
Za! loves sharing stage with other musicians and creating new music altogether. They have peformed improvisated and unique shows along with Damo Suzuki (Can), Angel Deradoorian (Dirty Projectors), Les Aus, Nisei or Estrategia Lo Capto.
Za! have recently released their 3rd album, MEGAFLOW, through Acuarela, Gandula, Discorporate (Germany), Moorworks (Japan) and Secret Hymns (UK). Their 2nd album, Macumba o Muerte, was rated number 2 of the year and one of the best spanish albums of the century by Rockdelux, and was awarded by the Spanish Independent Label Union.
(*) With the support of Sounds From Spain